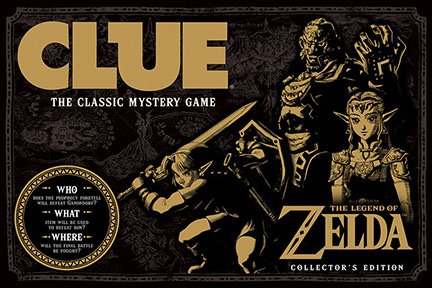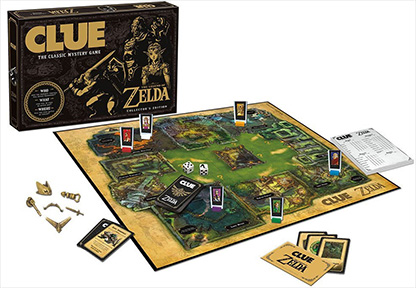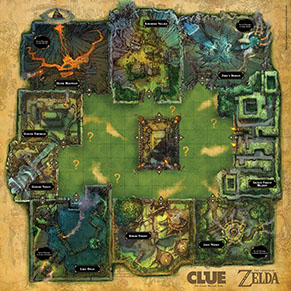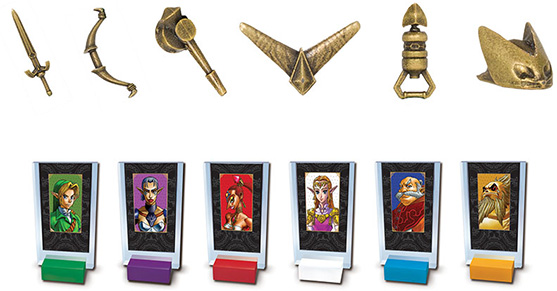 New Zelda Clue Board Game Revealed

Merchoid, the videogame merchandise specialist, has announced it will be stocking Zelda Clue, which is due for release later this year. The game is a Zelda themed version of the classic Clue whodunnit board game, in which you must use your sleuthing skills to work out how to defeat Ganondorf.

In the game, the Dark Lord Ganondorf has stolen the Triforce and is threatening Hyrule with his evil plans to rule the world. In order to fulfill the prophecy and defeat Ganondorf, you must find out who possesses the power to defeat Ganondorf, what item is required to defeat him, and where he has established his hidden lair.

The game manufactured by USAopoly, is suitable for ages 8 and up is for 3 to 6 players and is due to ship in June.

The full contents of the game include:

Includes:

• Custom Game Board
• 6 Metal Hero Movers: Master Sword, Fairy Bow, Megaton Hammer, Boomerang, Hookshot, Bombchu
• 6 Personality Cards: Link, Impa, Nabooru, Zelda, Rauru. Darunia
• 16 Boss Encounter Cards
• Custom Score Pad
• Custom Mystery Envelope
• 2 Dice
• Instructions



Key features of Zelda: Clue


• A Zelda themed version of the classic whodunnit board game
• Fulfill the prophecy by deducing who possesses the power to defeat Ganondorf, what is needed to defeat him and where he has established his lair
• Only available for customers in the USA
• Available to preorder from Merchoid now
• For 3-6 players
• Due to ship in June
• Manufactured by USAopoly
Horror-Adventure 'Perception' From Deep End Games & Feardemic Set to Blindside Players on May 30, 2017

Dim the lights and grab your safety blankets: we are excited to announce the release date for Perception, a first-person psychological horror game that thrusts players into the role of a blind woman named Cassie who depends on her ultra-sensitive hearing to solve an ancient mystery. Plagued by nightmares that lead her to a haunted New England estate, Cassie must use her wits to remain hidden and outmaneuver a malevolent force that threatens her life. Perception was crafted by the folks at The Deep End Games (Staffed with veterans of the AAA threats, BioShock and Dead Space) and released by publisher Feardemic; the game launches simultaneously on Xbox One, PC and PlayStation 4 on May 30, 2017.
This news is accompanied by a brand new trailer, which showcases the haunting, singular experience players can expect when Perception. Fans of games like SOMA, be sure to tune in. Perception will serve you your daily dose of creeps.



Story


After months of research, Cassie has discovered an abandoned mansion in Gloucester, Mass. Armed with a cellphone to contact the outside world and her drive to solve the mystery, she sets off for Echo Bluff... only to find it's worse than her nightmares. A ghostly "Presence" has tormented the house' inhabitants for generations, and now has its eyes set on Cassie. She must solve the estate's mysteries or risk becoming one of its victims.

Cassie finds her way through the house by tapping her cane to "see" via echolocation. Every sound creates a visual, but there is a cost. Each cane tap will reveal her whereabouts not only to herself, but to her pursuer, the Presence. She must avoid detection by using the ambient noise of the house to help her navigate or by making use of objects to create distractions.

Only one thing is certain: The Presence is searching for Cassie… and it's listening.



Features


• "See" using echolocation. Every sound creates a visual.

• Engage in a deadly game of hide and seek with relentless enemies.

• Trigger radical change at the Estate at Echo Bluff each time you solve its mysteries.

• Travel back through history to exorcise your own nightmares.
Nintendo to Launch New Nintendo 2DS XL Portable System on July 28

The Nintendo 3DS family of systems will soon be adding a new member. On July 28, New Nintendo 2DS XL makes its debut in the United States at a suggested retail price of $149.99. The New Nintendo 2DS XL system gives consumers a third choice of hand-held systems, one that offers pricing and features that fit between the Nintendo 2DS and New Nintendo 3DS XL systems. New Nintendo 2DS XL will launch on the same day as two big new games for the Nintendo 3DS family of systems: Hey! Pikmin and Miitopia.

"This new addition to Nintendo's portable hardware line demonstrates our commitment to the hand-held market," said Reggie Fils-Aime, Nintendo of America's President and COO. "New Nintendo 2DS XL sports a beautiful clamshell design and offers a great balance between price and performance."

The new system will be available in a stylish black/turquoise color, and will use the same size large screen found on New Nintendo 3DS XL systems. As the name of the new system implies, visuals will be displayed in 2D only. The system is lighter but still packs the same power as New Nintendo 3DS XL, and has built-in NFC support for amiibo cards and figures. It can play the massive library of quality Nintendo 3DS, New Nintendo 3DS and Nintendo DS games in 2D. Nintendo systems are also the only dedicated video game systems where people can find their favorite characters and game franchises, such as Mario, Peach, Yoshi, Kirby, Pokémon, Fire Emblem, Mario Kart, Super Smash Bros., Animal Crossing and The Legend of Zelda.

There are over a thousand games in the Nintendo 3DS game library and more are always on the way, including two that launch on the same day as New Nintendo 2DS XL. These new games will offer fun new experiences for New Nintendo 2DS XL owners, and for owners of any Nintendo 3DS family systems.

• Hey! Pikmin: In this brand-new style of Pikmin game, players guide Captain Olimar through 2D side-scrolling levels and collect Sparklium to refuel his crashed ship, the S.S. Dolphin 2, so he can escape the planet. The touch-screen controls let players choose the right Pikmin to toss at enemies and objects, which is critical to defeating foes and solving the many puzzles Olimar encounters during his adventure.

• Miitopia: Band together with your Mii and Mii friends to explore your own personalized world of Miitopia. Cast Mii characters into various roles and watch hilarious scenes unfold as they work together to defeat the Dark Lord who has stolen the faces of townspeople of Miitopia. Players can bring in their created Mii characters from the Miitomo or Tomodachi Life games, or create their own Mii team in the game. This game has a lighthearted tone with traditional and strategic RPG-like elements, including customization, relationship building and team management.

Remember that New Nintendo 2DS XL features parental controls that let adults manage the content their children can access. For more information about other features, visit nintendo.com/2ds/new-nintendo-2ds.