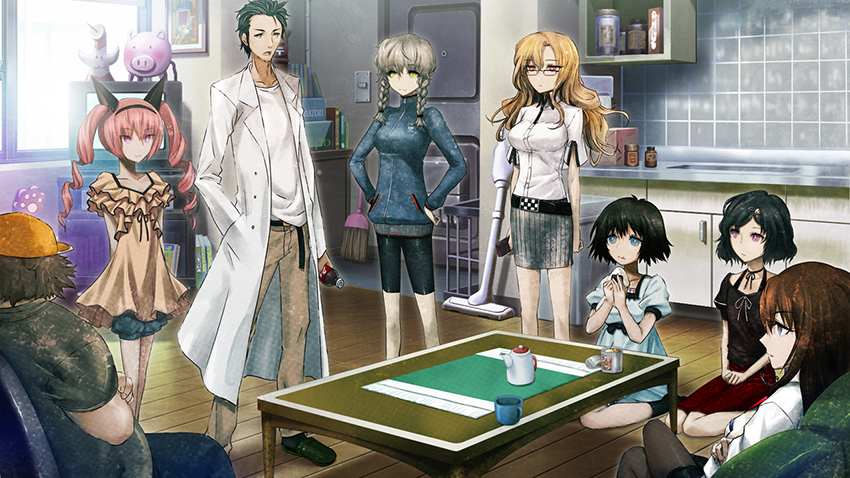 Robotics;Notes Game Sequel, Steins;Gate Update, Switch Version of Anonymous;Code and More Revealed

The production company Mages. announced its Robotics;Notes DaSH game sequel, its Steins;Gate Elite update, and a Nintendo Switch version of its Anonymous;Code game at the "Chiyo-St. Live 2017 -Genesis-" event on Sunday. Mages. also announced the Android launch of the Chaos;Child game and confirmed the PC download release of Chiyomaru Studio's existing game lineup on the Steam service.

Robotics;Notes DaSH is a "true sequel" to the Robotics;Notes game that inspired a television anime in 2012. Mages. has not yet announced the new sequel's release date and platform (or platforms).

Steins;Gate Elite is a major update of the original Steins;Gate game with new elements. Mages. has not yet announced the new version's release date and platform (or platforms).

Set in Tokyo's Akihabara district, the original game followed Rintarō Okabe as he changes fate by travelling between different world lines. The game inspired a 2011 television anime as well as the Steins;Gate: The Movie - Load Region of Déjà Vu sequel, and the game franchise boasts over 1 million copies.

The upcoming Anonymous;Code game will now debut on the Nintendo Switch platform, in addition to the previously announced PlayStation 4 and PS Vita systems. Mages. has not yet announced the game's release date.

The story begins on February 6, 2036 at 06:28:15, when New York, London, Shanghai, Moscow, and Tokyo's Shinjuku are destroyed. This happens due to a problem in 2036 when computers' timekeeping algorithms overflow, causing defense systems and military satellites to target these major cities.




Because an even bigger problem is predicted to occur in 2038, the super computer Gaia creates another Earth using its Earth simulation program. That simulated Earth confirms what would happen in 2038. However, even though no humans were born in that simulation at first, when an Arecibo message was sent to the Earth simulation, humanity came into existence.

Although the researchers were overjoyed, the people within the Earth simulator also create a super computer of their own, and an Earth simulator now exists inside the Earth simulator. The researchers now question their own existence.

The game's protagonist is a hacker named Poron Takaoka, and the game takes place in the advanced information society that has sprung up in Tokyo's Nakano district in the year 2037. According to Shikura, the player can "loop," thanks to the protagonist's ability called "Save & Load." With this ability, he hacks into God to make looping possible. Thanks to an encounter with a mysterious, unfamiliar girl named Momo, he faces the truth of the "Earth Simulator" that operates the world.

MAGES. president Chiyomaru Shikura previously said that Anonymous;Code would ship this past winter.

Mages. also announced the release date and platforms for the Occultic;Nine game, as well as the release of the third Occultic;Nine novel. The game will debut on PlayStation 4, PS Vita, and Xbox One systems on September 28. The Overlap Bunko label will publish third novel volume this summer.

In addition, the Android version of the Chaos;Child game went on sale on Sunday. From now until June 11, it will cost 2,000 yen (about US$18) on sale, instead of the regular price of 4,800 (about US$43).

MAGES. is already planning the next "Chiyo-St. Live" event for 2018.

animenewsnetwork.com