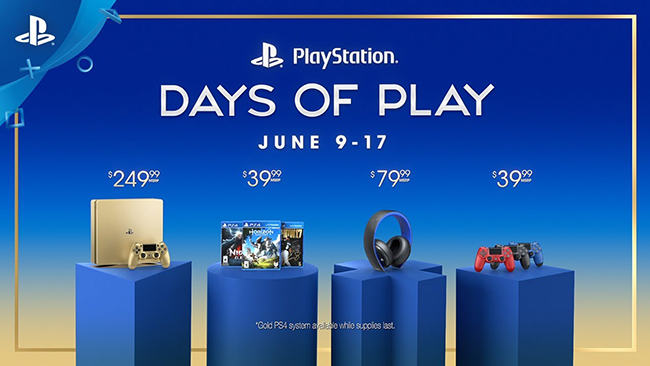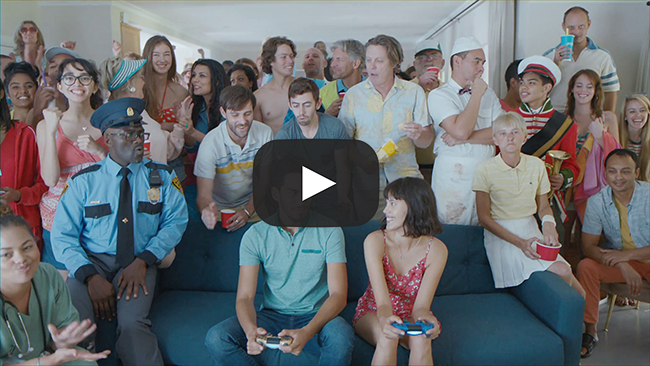 A Thank You to All Our Fans: New Gold PS4, 9 Days of Epic Deals

We're pleased to introduce our Days of Play campaign, a first of its kind global promotion, bringing you some amazing PlayStation deals just as summertime is getting into full swing. Haven't jumped into the PlayStation 4 community yet? Or maybe you want to add some of the great PS4 games that have recently launched? Now's the time! Starting June 9, major retailers across U.S. and Canada will offer discounts on hardware, peripherals, and PS4 exclusive games – all the way through June 17. This campaign is a thank you from us to the passionate PlayStation Community for your unwavering support – it's all of you that makes PlayStation the Best Place to Play, and led to the huge success of games like Horizon Zero Dawn.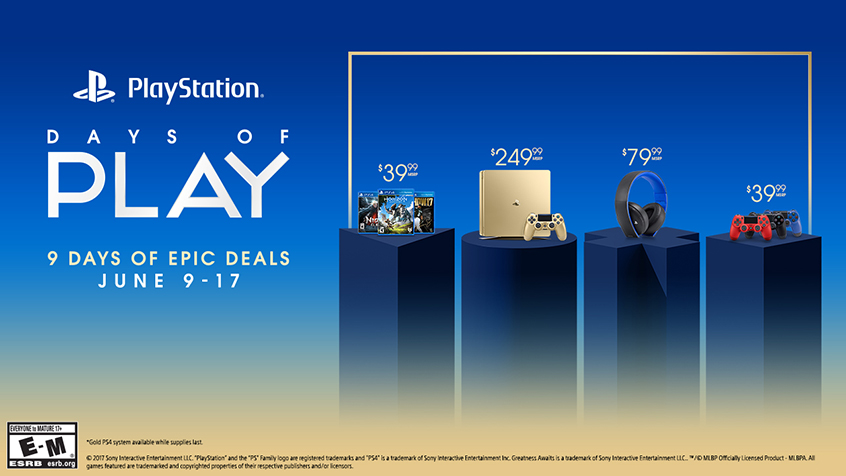 Click to access the Days of Play gallery

On June 9 as part of this event, we will be introducing a new slim Gold PS4 system with 1TB of HDD storage, which will launch with a limited-time promotional price of $249.99 USD (MSRP) / $329.99 CAD (MSRP). The system comes with a matching DualShock 4 wireless controller, and will be available for a limited time only. Make sure not to miss out.

What's more, PlayStation Store will be offering awesome deals for digital blockbuster games and PlayStation Plus memberships starting June 9. Stay tuned for a blog post on June 9 for more info.
In the meantime, here's the full list of retailer-specific deals being offered throughout the 9 days:

• Slim PlayStation 4 system in Gold with 1TB HDD – $249.99 USD (MSRP) / $329.99 CAD (MSRP)

• DualShock 4 wireless controller (all colors) – $39.99 USD (MSRP) / $49.99 CAD (MSRP)

• Gold Wireless Stereo Headset (Jet Black) – $79.99 USD (MSRP) / $79.99 CAD (MSRP)

• Nioh, Horizon Zero Dawn, MLB: The Show – $39.99 USD (MSRP) / $49.99 CAD (MSRP)

• Catalog titles – check with your local retailer

Thank you again for all your tremendous support and happy gaming!

John Koller - Vice President, PlayStation Brand Marketing, SIEA

blog.us.playstation.com
Limited edition Gold and Silver consoles join the PlayStation 4 family this month

The PlayStation 4 family is expanding, with two new colour variants joining the existing line-up later this month.

The two new colours – Gold and Silver – are both sleek and stylish and absolutely perfect if you want to make a 'metallic' statement. Both will be available as 500GB models, including two matching Dualshock 4 wireless controllers.

You'll be able to get your hands on them from 28th June*. Both are limited editions so don't miss out!

These two new variants join the original Jet Black PS4 alongside the Glacier White edition which released earlier this year.



Click to access the Gold and Silver PS4 gallery

The Gold and Silver Dualshock 4 wireless controllers are also available as standalone products.

Take a look at the new colours above and check with your local retailer for details on availability and pricing.

Jayne Murphy - Product Manager, SIEE

blog.eu.playstation.com