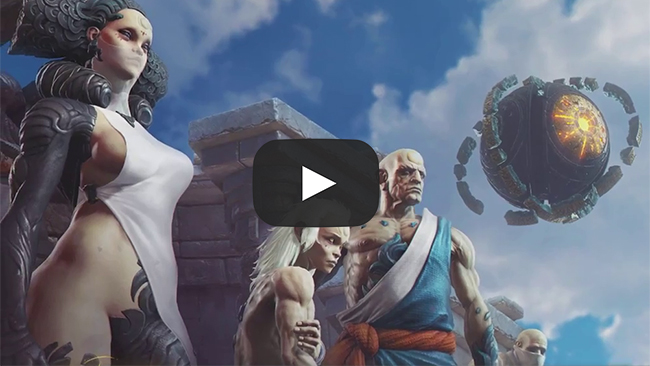 Dev Diary #1 ~ Antagonist
Raiders of the Broken Planet Background Story Video Developer Diary Out Now

MercurySteam have released the second developer diary for Raiders of the Broken Planet, that focuses on the the background story of its 4 divided by 1 asymmetric shooter. Currently in closed beta Raiders of the Broken Planet takes a pulp sci-fi approach melding comic book visuals with an intense narrative that involves various factions fighting for an mythical power source.

In one of the moons of Saturn, a scientific expedition from earth discovers the remains of a space ship stranded millions of years ago. The explorers enter the ruins and discover Aleph, an incredible power source that is the key to interstellar travel. Motivated by private interest and corporate greed, the organisation sends a group of paramilitary factions to the Broken Planet. On arrival, an accident renders the paramilitaries technology useless and the factions begin a battle for supremacy, Aleph and the alien technology that can return them back to earth.

In addition, the developer diary delves deeper into the role of the antagonist and his role not only in the story but how the counter operative adds to the overall adventure aspect of the game.



About Raiders of the Broken Planet


After discovering interstellar travel through one of Saturn's moons, humanity reach a new world, a Broken Planet on the far side of the universe. The humans, stranded on this planet, are now at war with each other and its indigenous population over control of its incredible power source, Aleph. Rising up to protect his people and his homeworld, Harec has rallied together a band of mercenaries and outlaws known as The Raiders. But will The Raiders protect the planet, or do they have ulterior motives for joining this war?

In Raiders of the Broken Planet, become a Raider and join the battle both on and offline in awesome 3rd person Brawler-Shooter gameplay. Customise your character's combat style in unique ways with special collectible cards. Use Aleph to your advantage, to power special abilities, but manage it properly or you will give away your position on the battlefield!

In multiplayer, Raiders of the Broken Planet sets itself apart with its innovative Antagonist system. Choose to play as part of a four-person Raider team or choose to become the Antagonist and play against the Raiders team on your own with the help of an army of AI controlled soldiers at your disposal. It's high risk, but comes with special bragging rights. After all, war is business, and business is booming.