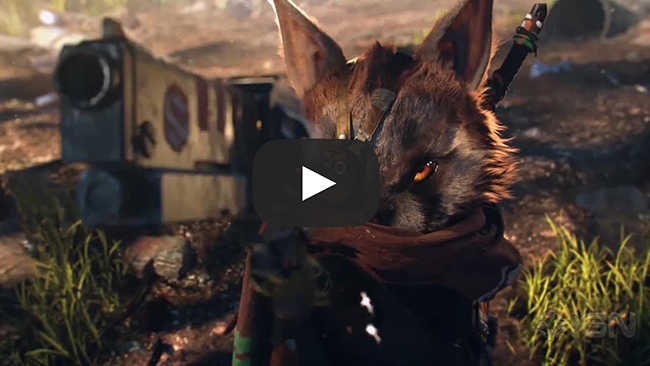 THQ Nordic will launch the Swedish original IP Biomutant

THQ Nordic and independent developer Experiment 101 have revealed Biomutant, a new and original open-world action RPG for the PlayStation 4, Xbox One and Windows PC. Explore a world in turmoil and define its fate – will you be the hero and saviour or lead it to an even darker destiny?

Biomutant's unique design lets players change their character's abilities and appearance with powerful mutations, bionic prosthetics and weapons. Grow claws, sprout wings, or attach a robotic leg – each choice will impact the way your hero plays in real-time combat that blends melee martial arts and firearms.

Set in an imaginative post-apocalyptic universe, Biomutant is a kung fu fable filled with fantastic creatures to discover, dangerous factions to navigate, and colorful worlds to explore with mechs, paragliders, balloons, mounts, jet skis and more.

Biomutant is expected to launch in 2018. For the latest updates as it develops, visit Biomutant. The game will be playable at the THQ Nordic Booth at Gamescom as well as at PAX West.



About Biomutant


Biomutant is a post-apocalyptic open-world ARPG that delivers real-time melee, shooter and mutant ability action. Replayability by varied and deep character progression, exploration of three systematically generated worlds, an underworld and a small solar system, by foot, mech, air-balloon, jetski and UFO. Biomutant also features a fully customizable (MMO style) character and mutation system, bionics and creative item crafting, plus an interactive narrative featuring a contextual storyteller where the players creates their own story of survival in a vibrant colorful world.



Key Features


• Real-Time Combat: Mixes melee, guns, and abilities.

• Hugely Customizable Character: Bionics offer powerful prosthetics, while Mutations offer physical changes as well as powers.

• Automation sidekick: Customizable living robotic toys.

• Pilotable Vehicles: Customizable mech, jetski, and UFO.

• Creative crafting system: Open creation of weapons and gear.
Gallery on Google Photos