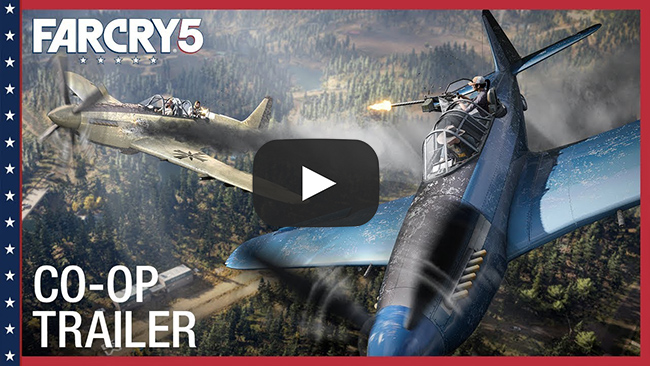 Download HQ Trailer .MP4 | 237 MB
Far Cry 5 – Creating Co-Op Havoc in Hope County

When Far Cry 5 arrives on February 27, 2018, you'll explore the vast countryside of Hope County, Montana, and liberate its citizens from The Project at Eden's Gate. You'll also be able to play through Far Cry 5's entire campaign in co-op, recruiting a friend to be your partner in destruction.

Once you've finished the tutorial and are ready to wreak havoc against the enemies of Hope County, you can call in a friend at any time to give you a hand. This Friend for Hire will appear as their custom player character, and can fight alongside you throughout your adventure, seamlessly dropping in and out as needed with full voice-chat communication. As you battle alongside each other, you and your buddy will be able to help each other by sharing ammo and health packs – and if you're ready to really test your friendship, there's even an option to turn on friendly fire.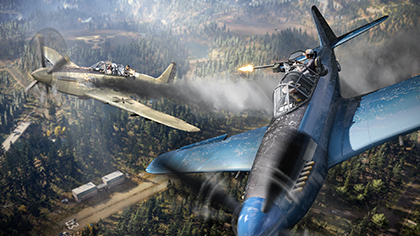 If you invite a friend to join your game, you'll still discover the world at your own pace. Only the hosting player will be able to accept missions, recruit and command Guns for Hire, and keep the progress you make in the world. Your friend, meanwhile, will get to keep all their progression as a player, retaining any cash, guns, perks, or loot they earn (with the exception of items unlocked by missions) while fighting alongside you. The game will also keep you together to make sure you watch each other's backs, by taking account of each player's position and teleporting one closer to the other if someone has wandered too far away. Additionally, co-op is restricted to players from your friends list, with no random matchmaking, and you can turn off the feature entirely if you'd rather stay solo.

Far Cry 5 launches on PS4, Xbox One, and PC on February 27. For more info on the game, check out our previous coverage.

blog.ubi.com