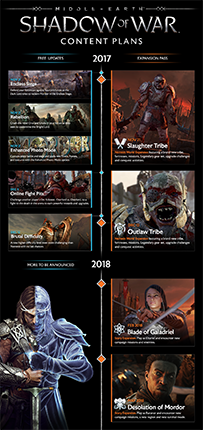 ​​​​​​​Middle-earth: Shadow of War Free Content Updates & Features Announced

Warner Bros. Interactive Entertainment today announced various free content updates and features coming this year to Middle-earth: Shadow of War, providing players with new ways to continue the battle for Mordor and capture every epic moment. Upcoming free downloadable content (DLC) updates and features include:

• Endless Siege – Defend your fortresses against Sauron's forces as the Dark Lord tries to reclaim Mordor in the Endless Siege. (Available 21st Nov)

• Rebellion – Crush the rebel Ologs and Uruks in your forces as they seek to undermine the Bright Lord. (Available 21st Nov)

• Enhanced Photo Mode – Capture every battle and siege and apply new filters, frames and textures with the Enhanced Photo Mode update. (Available 21st Nov)

• Online Fight Pits – Challenge another player's Orc follower, Overlord vs. Overlord, to a fight to the death in the arena to earn powerful rewards and upgrades. (Available 5th Dec)

• Brutal Difficulty – A new higher difficulty level even more challenging than Nemesis with no last chances. (Available 12th Dec)

The Middle-earth: Shadow of War Expansion Pass is currently available for £32.99, or included as part of the Shadow of War Gold Edition for £89.99. The Slaughter Tribe Nemesis Expansion, Outlaw Tribe Nemesis Expansion and Blade of Galadriel Story Expansion can each be purchased à la carte for £11.99. The Desolation of Mordor Story Expansion can be purchased à la carte for £15.99. For more information, check out this link.

Middle-earth: Shadow of War is now available for the Xbox One family of consoles, Windows 10 PC through the Windows 10 Store, Steam, PlayStation 4 and PlayStation 4 Pro.