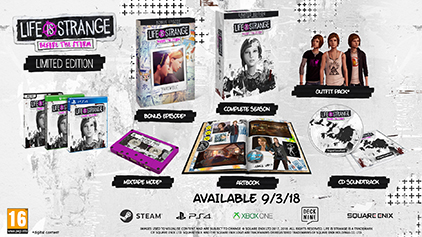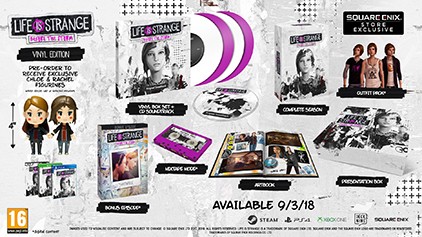 Life is Strange: Before the Storm Limited and Vinyl Editions Coming in March

Square Enix, today announced that boxed Vinyl and Limited Editions of Life is Strange: Before the Storm, the latest game in the award-winning, multi-million copy selling, episodic franchise will be released on March 6th 2018 in the US and March 9th in PAL territories on Xbox One, PlayStation 4 and PC (Steam). Alongside the Boxed Editions, the Bonus Episode entitled Farewell will be launching digitally across all territories on March 6th.

The Limited Edition contains a physical artbook featuring art from Life is Strange: Before the Storm plus the licensed soundtrack on CD. A separate Vinyl Edition is also available exclusively from the Square Enix Store. This includes all content from the Limited Edition as well as an exclusive vinyl set of the licensed soundtrack.

Both the Limited and Vinyl Editions are now available to pre-order and include access to the Life is Strange: Before the Storm Bonus Episode, 'Farewell'. In this exclusive episode, players see the return of a young Max Caulfield. This episode welcomes the original voice actors Ashly Burch & Hannah Telle, resuming their roles as Chloe and Max. More details can be found in the recently released video entitled Farewell – Behind the Scenes, which can be viewed here.

Both editions also include access to the following digital content:

• Mixtape Mode – Design your own playlist from the Life is Strange licensed soundtrack and listen to it alongside a cinematic scene from the game

• Outfit pack – Change up Chloe's look with three new complete outfits. Includes Punk Doe, Hawt Dawg Man & Illuminati outfits

• Episode 1 from the first Life is Strange season

The Limited Edition RRP is $39.99/€39.99/£34.99; the Vinyl Edition is available for $69.99/€69.99/£59.99 exclusively from the Square Enix Store.



Pre-Order to receive exclusive Chloe & Rachel figurines. Availability subject to demand. This offer may not be available in certain territories please check your local retailers for further information.