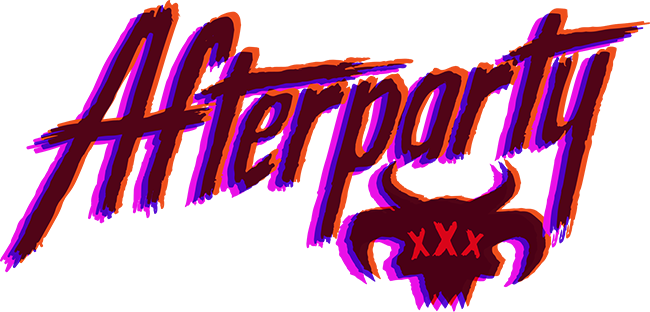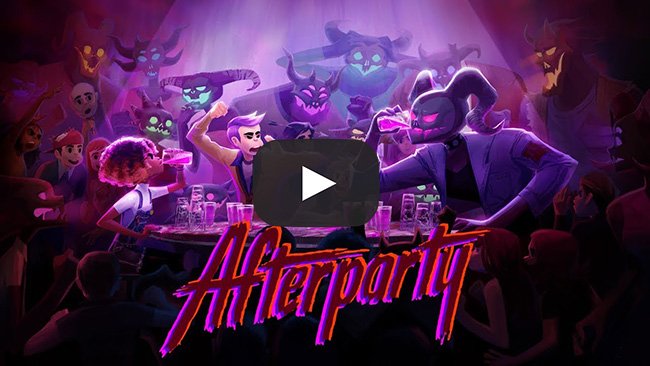 Get drunk with Satan in Afterparty, the next game from Oxenfree developer Night School Studio

Oxenfree developer Night School Studio released the first trailer for their heretical next game, Afterparty. Set in Hell, Afterparty is a raucous fantasy-adventure centered around two recently deceased college grads, Milo and Lola, who are desperately trying to find a way back to Earth. The catch? The only way out of Hell is to drink Satan under the table.

"I think it's fair to say that if any of us turns up in Hell, our first priority will be to GTFO and get sloshed with our best friend. We want to give players real agency in accomplishing those goals," said Sean Krankel, co-founder and studio director of Night School Studio. "Players can chat up demons and the deceased using a new dialogue system, challenge them to Satanic bar games, and drink from a huge menu of infernal cocktails, all with game changing abilities."

Janina Gavankar (Star Wars: Battlefront II, True Blood) will voice Lola, one of Afterparty's two playable characters. The player will alternate between playing as Lola or her best friend Milo (voiced by Khoi dao, Sword Art Online: Ordinal Scale) at various strategic and emotionally resonant points in the game, opening up exclusive dialogue choices and story lines.

"Milo is a lost puppy without Lola, and Lola loves him for it. She's protective to the death, and even after death," said Janina of her role. "She didn't even like drinking when she was alive, but how could anything get worse? When in hell, do as the demons do."

As both Milo and Lola, the player will experience a neon-drenched vision of Hell for a wild, bar-hopping night. Exploring an interconnected network of underworld islands via the River Styx, players will be sucked into the lives of a variety of hellions' storylines, each of which ripples into the next. What happens by the end of the night is completely up to the player.

"We wanted to merge a heavily player-driven narrative with outlandish comedy that feels surprising and spontaneous," said Adam Hines, co-founder and lead writer. "So the player not only defines their adventure, but directly creates the outrageous situations that make any great 'crazy night out' story worth telling."

Afterparty will be released in 2019. For more information about the game, visit afterpartygame.com or follow us on Twitter.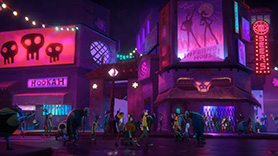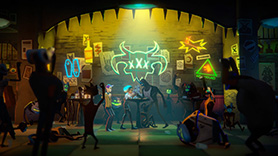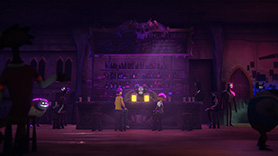 About Afterparty


In Afterparty, you play Milo and Lola, recently deceased best buds who suddenly find themselves staring down an eternity in Hell. But there's a loophole: outdrink Satan and he'll grant you re-entry to Earth.

Milo and Lola are now dead, thirsty, and roaming the streets of Nowhere, the outermost island of Hell.

It's time to:

• Go on the best bender ever

• Party with dangerous demons and the not so dearly departed

• Best and impress Satan's Monarchs to gain access to the big guy

• Drink Satan under the table

What adventures will you stumble through in the underworld? Every step is up to you. Time to go on the best bender ever, uncover the mystery of why you've been damned, and drink the big guy under the table.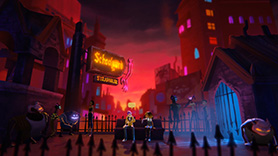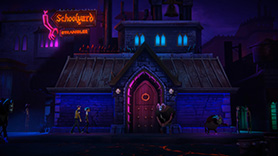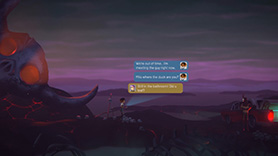 Features


• Party as two best friends: Control Milo and Lola with an intelligent conversation system that changes the story and your relationships based on every decision. Uncover their personality quirks and foggy history during the wild events of the night

• Drink for your lives: Hell bars offer a variety of libations, each with different Liquid Courage effects to imbue Milo and Lola with specialized dialogue options and abilities

• Demonic activities: The underworld's pubs are packed with drunken games to pass the time. Beer pong, dance-offs, karaoke and chugging competitions all mesh with the dynamic dialogue system for a seamless narrative bender

• Change Hell forever: Players' actions won't only affect Milo and Lola, but also the people and places of Hell. Finishing a quest on one island might result in the total destruction of another

• Flirt with Satan: Explore an interconnected network of underworld islands via the River Styx

• An original soundtrack by scntfc (Oxenfree, Sword & Sworcery)



History


Founded in 2014 by cousins Sean Krankel and Adam Hines, Night School is an independent studio focused on the intersection of story and interactivity. The team of Telltale and Disney veterans are applying their extensive entertainment experience to create games filled with wonder, danger, and humor. The studio's first game, Oxenfree, garnered critical acclaim and won an Independent Games Festival Award for Excellent in Visual Art and was nominated for a D.I.C.E award for Outstanding Achievement in Story, and a SXSW Game Award for Excellence in Narrative.