Mud, Blood, and Steel: Ghost of Tsushima Gameplay Debut

Ghost of Tsushima is an epic, open-world samurai adventure set during the Mongol invasion of Japan in 1274. We're telling an original story set in the world of feudal Japan—a time of warfare, chaos, and violent change. You play as Jin Sakai, a powerful samurai warrior whose adventure draws on Japanese history and the iconic traditions of samurai cinema to craft a gorgeous tale of revenge, empowerment, and hope.

What more could you ask for?

Thus far, all we have shown about Ghost of Tsushima is the debut trailer from Paris Games Week back in October. That video gave you a glimpse into the world and story we are creating. Don't get me wrong, I like a good story trailer or mysterious teaser video as much as anyone. But to get me really excited, and to understand the experience of a new game... Show me the gameplay, baby!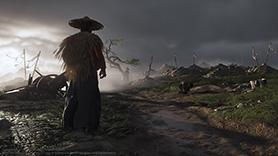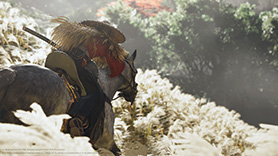 Which is why I'm thrilled (or is that stress/anxiety/all of the above?) to share a taste of what Ghost of Tsushima is all about. We chose this particular sequence to capture a few of the essential visions we have for the game: a sprawling, beautiful Tsushima Island... brutal Mongol invaders... and katana combat that delivers on our target of "Mud, Blood, & Steel." Of course this is just the beginning — and as time goes by we'll talk more about the scope of the world, Jin's progression and the game storyline...



Meet Masako

In this story, Jin fights alongside another samurai—a deadly onna-bugeisha named Masako. They joined forces to save their homeland from the Mongol invaders, but Masako's tragic personal history drives a wedge in her relationship with Jin. As you've seen, this ends up forcing them into a duel at the end of the experience.

Masako and her story are one of many side characters and quests that form the fabric of Ghost of Tsushima. These characters will play important parts in Jin's main storyline, but most of them will also have side quests and stories for you to explore. In fact, the demo you just watched is part of Masako's storyline, a side adventure off the game's main path.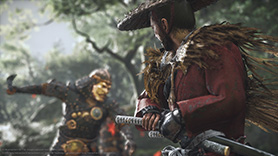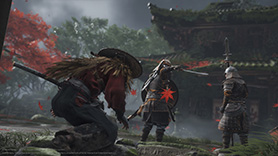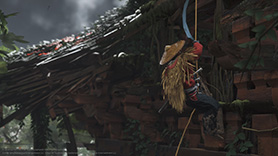 A Window into Ghost

This story offers a small window into Jin's world and his journey to save his homeland from the Mongol Empire. The early moment when Jin overlooks his surroundings—the distant fires, sacred temples, and far off mountains—promises an island full of dangerous and stunning places to root out the invading Mongols.

Even Jin's outfit and how he chooses to fight are notable–foreshadowing some parts of Jin's personal journey. He's in a rain-drenched part of the world, so Jin has traded his traditional armor for a straw raincoat called a mino. And while he wields his katana with deadly skill, you can see he's straying from his samurai ways to attack his enemies with the violent grace of a silent assassin.

What does all this mean? It means there's a much bigger story to tell—but that's for another day.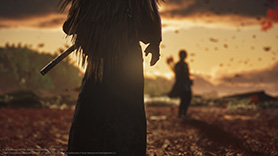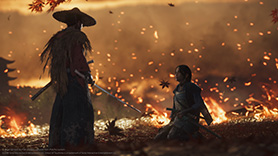 Chasing the Red Leaves

As a final thought, watch the red leaves swirl around the final duel between Jin and Masako. The red leaves are a visual metaphor for this story in Ghost of Tsushima—but also for the path it takes to create a game. Ideas swirling around and can almost be overwhelming for me–and at the same time incredibly beautiful and exciting. The first task is identifying a clear vision—picking out the one red leaf among thousands. Once you find that idea, you set out to pursue it relentlessly as the wind carries it in exciting new directions.

That single red leaf Jin picks up at the beginning of the story was a touchstone for the creation of this story. The leaf influenced the visual development of the adventure as well as the design of the temple. Those ideas lead to gameplay, and to dozens of iterations on this quest. Even today, as we write this blog post, the team is tweaking small details of the experience. Still chasing this particular red leaf.

Just like in Jin and Masako's duel, it'll take a whole pile of red leaves to make Ghost of Tsushima something worth jumping into.

But there's lots left to do, so if you'll excuse me, I gotta get on to chasing that next red leaf..

Brian Fleming - Producer, Sucker Punch Productions

blog.us.playstation.com