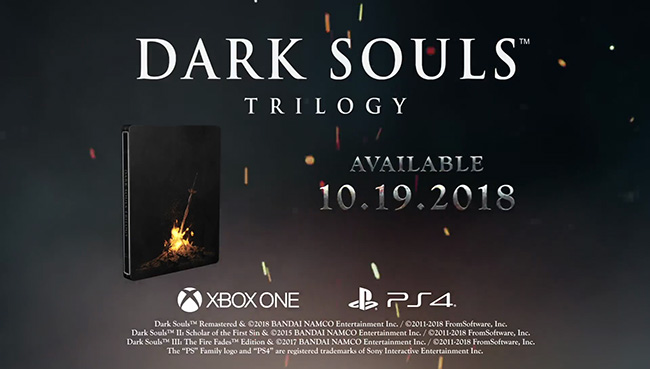 Dark Souls Trilogy Announced for PlayStation 4 and Xbox One

Leading video game publisher and developer Bandai Namco Entertainment America today announces that Dark Souls Trilogy will be coming to the PlayStation 4 computer entertainment system and Xbox One on October 19, 2018 with an MSRP of $79.99. This three-game compilation includes Dark Souls: Remastered, Dark Souls II: Scholar of the First Sin, and Dark Souls III: The Fire Fades Edition packaged in an exclusive Steelbook case.

The Dark Souls series has been a benchmark of excellence since it's initial release in 2011. The series has ignited the imagination of video game fans the world over with its unique gameplay elements including asynchronous multiplayer, challenging difficulty that requires players to think before they act, deep lore that expands a deceptively simple story, and an atmospheric twisting and interconnected world map. Now players can own the entire series along with all associated DLC in one ultimate package.

"The Dark Souls Trilogy gives those who haven't played the Dark Souls series a great opportunity to jump in and experience what has become one of the most influential video game series of the past decade," said Jenn Tsang, Marketing Brand Manager for Bandai Namco Entertainment America Inc. "The magic of Dark Souls lies within its ability to challenge players with highly rewarding gameplay and deliver a euphoric sense of accomplishment after beating a particularly tough boss, or area in the game. We hope to share that feeling with new players through Dark Souls Trilogy."

The physical edition of Dark Souls Trilogy will be available in limited numbers across the Americas. To ensure a physical copy at launch, it is recommended that players please pre-order the physical game at participating retailers.

Dark Souls Trilogy will be available for the PlayStation 4 system and Xbox One on October 19, 2018 with a MSRP of $79.99.