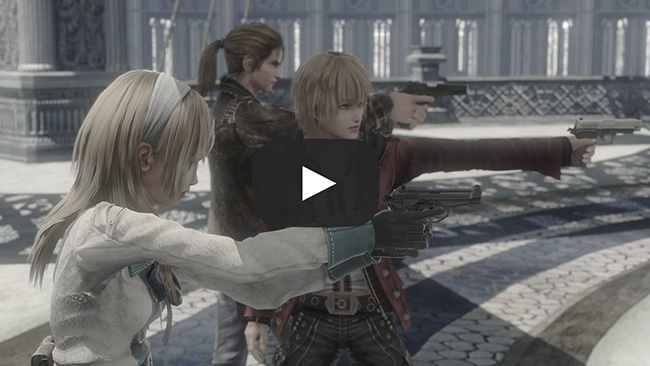 Download HQ Trailer .MP4 | 165 MB
Tri-Ace's Gun-Slinging RPG Classic Resonance of Fate Remastered as a 4K/HD Edition for PS4 and PC

Japan-based software developer tri-Ace today announced that it has remastered its classic tactical gunplay role-playing game Resonance of Fate in 4K HD as a digital-only release on PlayStation 4 and, for the first time, on PC. The steampunk aesthetic, fateful story, soaring symphonic soundtrack, and intense gun combat for which the game is known now burst to life and play out in incredibly high resolution. All the action is set to a magnificent music score composed by Motoi Sakuraba and Kohei Tanaka.

Launching with the new Resonance of Fate 4K/HD Edition website and 4K trailer, PS4 pre-sales begin today on the PlayStation store, as does the wish-list registration for the PC version on Steam. The game slated for release this October.

Set in the distant future when humankind nears extinction and is ruled by the 'Basel' perpetual motion machine – a massive environmental conservation device of man's own making run amuck; Resonance of Fate weaves a tale of guns and emotional bonds during this end of days. The game's three protagonists - Zephyr, Vashyron, and Leanne, work as mercenaries and, through their missions uncover the truth behind the ruling Cardinals and Basel.

Originally released in early 2010 on the PS3 and Xbox 360 platforms (and known as End of Eternity in Japan), Resonance of Fate received accolades for its 'tri-attack' battle system – a mix of real-time and turn-based controls; the focus on gun combat and gun customization; and its over-the-top cinematic hero actions of the main characters. Critics praised the gameplay and unique combat system that combines strategy with aerial gun battles and fast-paced thrills.

Eurogamer called its innovative design "one of the most inspired approaches to the role-playing video game seen in a decade", while IGN called the combat system the "…star of the show". US Gamer lauded the combat's fast pace and emphasis on teamwork, while Jostein Johnson of 1UP credited the game with redefining the turn-based battle system, attempting to turn it "into an interactive animated film... saving the JRPG" and "truly renewing it for more advanced technology. RPGamer doled out several award nominations, with the game garnering Runner-Up for its "Best Battle System", "Best Script", "Best Voice-Acting", "Best Console RPG" and "Most Overlooked" awards; and winning RPGamer's "Most Original" award.

Resonance of Fate 4K/HD Edition PS4 presales begin today and those ordering the game in advance will receive exclusive PS4 themes and avatar sets. The ability to add the PC version to Steam wish-lists also unlocks today. Resonance of Fate 4K/HD Edition will be released globally on October 18. 2018 for $35 USD price or EU €35. For additional information, please visit the website at tri-ace.co.jp/rof.
Gallery on Google Photos