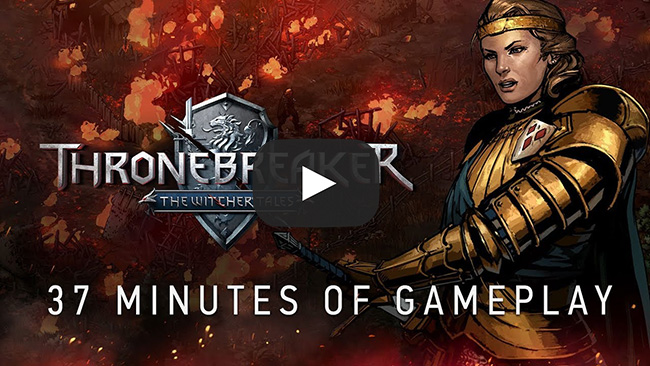 New gameplay from Thronebreaker: The Witcher Tales

CD Projekt RED, creators of The Witcher series of games, present a brand new video showcasing gameplay from Thronebreaker: The Witcher Tales — a dark RPG adventure set in the world of The Witcher.

The walkthrough focuses on the game's first act and is rich in both story and exploration gameplay, as well as turn-based card battle combat. The video also features commentary from Paweł Burza (Community Manager), who provides gamers with insight into the world of Thronebreaker.

Thronebreaker: The Witcher Tales releases on October 23rd on PC via GOG.com. A console release for PlayStation 4 and Xbox One will follow on December 4th. Pre-orders for the game are available on the official website — witchertales.com.



About Thronebreaker: The Witcher Tales


Thronebreaker is a single player role-playing game set in the world of The Witcher that combines narrative-driven exploration with unique puzzles and card battle mechanics. Crafted by the developers responsible for some of the most iconic moments in The Witcher 3: Wild Hunt, the game spins a truly regal tale of Meve, a war-veteran queen of two Northern Realms — Lyria and Rivia. Facing an imminent Nilfgaardian invasion, Meve is forced to once again enter the warpath, and set out on a dark journey of destruction and revenge. Throughout the game, players will explore new and never-before-seen parts of The Witcher world, embark on thought-provoking quests featuring rich, multidimensional characters. All while gathering resources to expand their army and engaging in epic story battles.