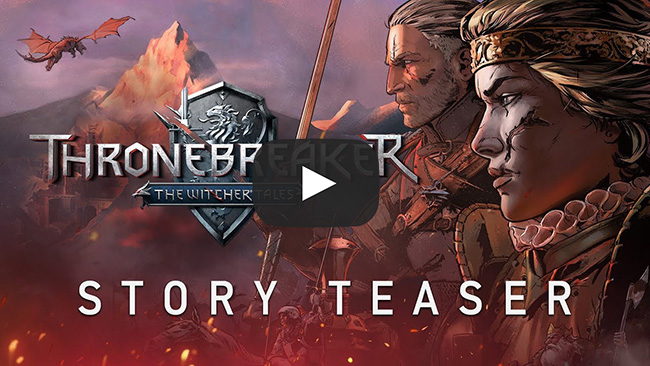 Pre-orders for Thronebreaker: The Witcher Tales launch alongside new story teaser and official website!

CD Projekt RED, creators of The Witcher series of games, announce the launch of pre-orders for Thronebreaker: The Witcher Tales — a new adventure set in the universe of monster slayer Geralt of Rivia.

"Thronebreaker is almost here and we couldn't be happier," said Marcin Iwiński, co-founder, CD PROJEKT. "What started as a single-player adventure for a multiplayer card game quickly outgrew the original concept and became a game in its own right. Thronebreaker is a proper Witcher tale, with more than 30 hours of story, over 75 side quests, and — at the same time — a game that lets you lead an army into previously unexplored places in the Witcher universe. And all of this is powered by story-driven battles based on the card battle mechanics of Gwent."

"Pre-orders start later today and Thronebreaker includes some pretty awesome digital goodies. However — and I think it's important to add this — these are not exclusive to gamers who pre-order. When buying our games, everyone gets the same in-game content. Doesn't matter if you pre-order it or buy it after launch. We don't want to lure you in with 'exclusive item' bullshit. For us, pre-orders are all about the anticipation and excitement, and — most importantly — showing support for the studios and games you love. So, if what you see and read in the previews appeals to you, we welcome your pre-order with open arms. However, if you need more time and would rather wait for reviews, do take your time and buy post-launch — you won't miss out on any of the goodies," Iwiński adds.



Thronebreaker suggested retail price is $29,99 (or €25,89) — the game is available for pre-order now. Details regarding the offer are available on the game's newly launched official website — witchertales.com — which also houses additional information about the tale's setting, characters, and gameplay. Pre-orders for PlayStation 4 in Europe will launch soon.

Thronebreaker: The Witcher Tales comes with these digital goodies:

• Official Thronebreaker Soundtrack
• Digital version of Gwent: Art of The Witcher Card Game artbook from Dark Horse
• Concept art, including the map of Lyria
• The Witcher graphic novel "Fox Children" by Dark Horse
• 2 in-game GWENT: The Witcher Card Game Player Titles
• 2 in-game GWENT: The Witcher Card Game Player Avatars
• 5 premium kegs for GWENT: The Witcher Card Game

Thronebreaker: The Witcher Tales will release on PC via GOG.com on October 23rd, with a console release on Xbox One and PlayStation 4 set for December 4th.