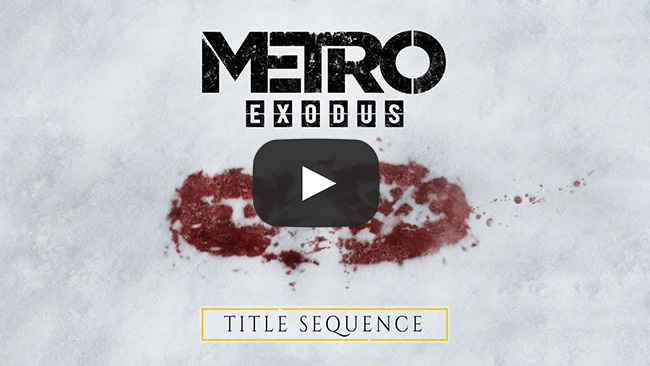 Metro Exodus has gone Gold and will now release a week early on 15 February 2019

Deep Silver and 4A Games are proud to announce that, after five years of development, Metro Exodus has gone Gold and will release a week earlier than anticipated. The spectacular third entry in the critically acclaimed Metro saga will now release on February 15th 2019, on Xbox One, the all-in one games and entertainment system from Microsoft, the PlayStation 4 computer entertainment system and PC.

"Our fans have been waiting patiently for Metro Exodus ever since we announced the title at E3 2017," said Klemens Kundratitz, CEO at Deep Silver. "We had previously delayed the release date to ensure 4A Games had the time to deliver their ambitious vision for the game, but now we're delighted to confirm that Metro Exodus has 'gone gold' and we are able to bring the release date forward to the 15th February 2019."

To celebrate this news, Deep Silver are proud to reveal the spectacular Title Sequence for Metro Exodus.

Created by Santa Monica based studio, Elastic, the award winning makers of some of the most iconic title sequences of recent years including Game of Thrones and Westworld, this beautiful introduction to the game is set to an original score by Metro series composer Alexey Omelchuk.

"We were absolutely thrilled to be contacted by the team at Deep Silver and 4A Games to create this Main Title Sequence," said Andy Hall, Creative Director at Elastic. "It's the type of project we love. Once we had been immersed in the game, we essentially lived in this frozen and terrifying landscape for many, many weeks...we are delighted with the final film."

Metro fans can look forward to brand new gameplay reveals in 2019 with the upcoming Story Trailer. Be the first to hear about the latest updates by registering at MetroTheGame.com, following us on Twitter and Instagram @MetroVideoGame or on Facebook at Facebook.com/MetroVideoGame.