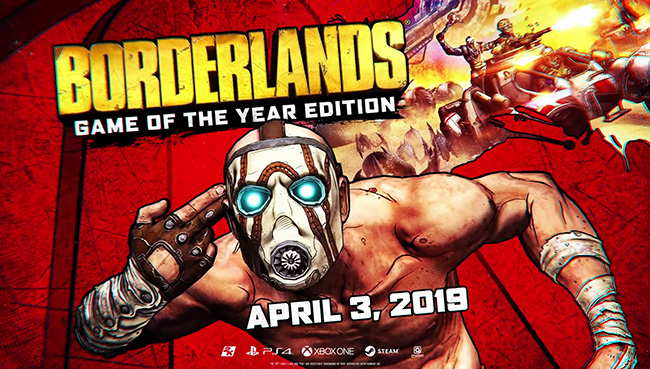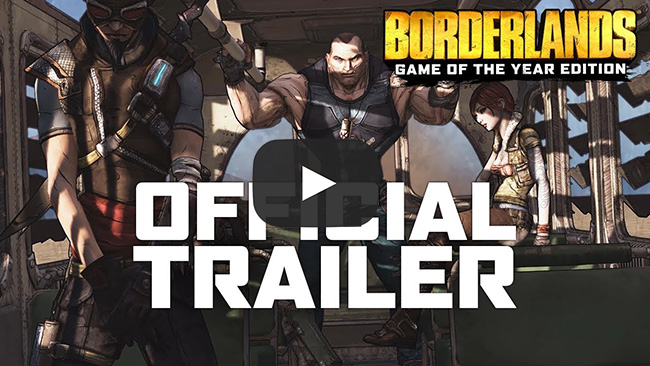 About Borderlands: Game of the Year Edition


Discover the co-op shooter-looter that started it all, crammed with additional content and enhancements! Equip bazillions of guns as one of four trigger-happy mercenaries, each with unique RPG skills. Take on the lawless, desolate planet of Pandora in pursuit of a powerful alien technology: The Vault. With brand new weapons, substantial visual upgrades, quality of life improvements, all four add-on packs, and more, Borderlands: Game of the Year Edition is the brand new definitive version of the award-winning 2009 first-person shooter / role-playing game hybrid, available now for the first time on current generation consoles.



What's New


• Quality of Life Improvements: Significant updates to the game's supporting systems allow for a smoother overall experience. For example:

- A Borderlands 2-style mini-map, which you can toggle on and off, has been added to complement the original compass.
- Substantial improvements to the inventory system—such as allowing you to "lock" weapons or mark them as " junk "—simplify item management.
- Items like ammo, money, and health now auto-pick up from the ground.

• Rewards Ready: With the addition of the SHiFT player rewards program, you can now use Golden Keys to unlock special in-game items and rewards. Returning SHiFT users who've played Borderlands 2 or The Pre-Sequel on PlayStation 4, Xbox One, or PC will receive 75 free Golden Keys, as well as two randomly selected all-new weapons, for their first newly-created Vault Hunter.

• Added Firepower: A new set of six named, custom-skinned Legendary weapons make the base game's arsenal even deeper. Beat bosses or gather Golden Keys for a chance to collect 'em all.

• Badder Boss Battles: In direct response to fan feedback, the campaign 's final boss encounter has been adjusted to be more engaging, challenging, and rewarding.

• Cosmetic Customization: For the first time, you will be able to customize your Vault Hunter beyond simply selecting a color scheme. Each of the four available characters has five brand new cosmetic heads unlocked and equippable right from the start of the game.

• Now Available on Modern Consoles: Borderlands: Game of the Year Edition makes the original Borderlands readily available on Xbox One and PlayStation 4 for the first time, in addition to providing a newly enhanced and visually remastered version for PC players .

• Free to Existing Owners on PC: If you already own the original Borderlands on Steam, you'll be able to upgrade to Borderlands: Game of the Year Edition absolutely free.



Key Features


• Bazillions of Guns: Rocket-launching shotguns, enemy-torching revolvers, SMGs that fire lightning rounds, and tons more procedurally generated firearms.

• RPG Progression: Slay your foes, gain experience points, and build out extensive skill trees unique to each of the four Vault Hunters.

• Co-op Frenzy: Tear through the opposition as a crew of up to four, with four-player split-screen available on consoles and online co-op available across all platforms.

• Rich Universe: Uncover the rewarding mysteries, memorable inhabitants, and deep lore of Pandora—and the Borderlands narrative universe.

• Intense Vehicular Combat: Get behind the wheel and engage in frenetic vehicle-to-vehicle combat.

• Radical Art Style: Traditional rendering techniques combined with hand-drawn textures give Borderlands its iconic style.



Included Content


• Borderlands [Base Game]: The original shooter-looter in all its visually remastered glory.

• The Zombie Island of Doctor Ned [DLC]: Enter the corporate-owned small town known as Jakobs Cove and put an end to the rumors of the walking "undead." New are as, new missions, new enemies, oh my!

• Mad Moxxi's Underdome Riot [DLC]: Celebrate the grand opening of Marcus Bank by taking on hundreds of foes in the only competitive arena around where you come back famous… or not at all.

• The Secret Armory of General Knoxx [DLC]: Want more of the Borderlands story and more loot than you could possibly figure out what to do with? Add new guns, missions, vehicles and more!

• Claptrap's New Robot Revolution [DLC]: This destructive adventure invites you to battle a vicious new threat: a massive uprising of your former friends, the Claptraps.
Gallery on Google Photos