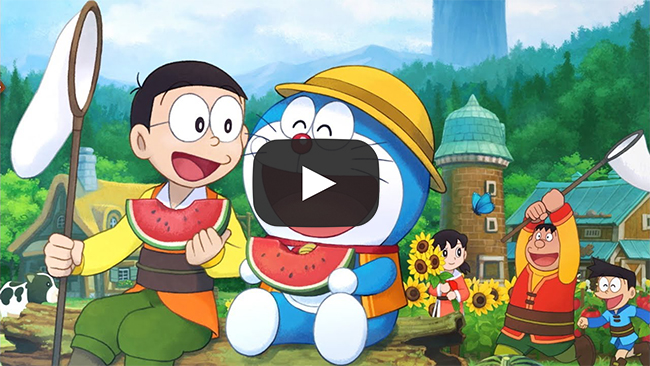 Download HQ Trailer .MP4 | 162 MB
Doraemon Story of Seasons Announced for Nintendo Switch and PC

Leading developer and publisher of anime video games, Bandai Namnco today announced Doraemon Story of Seasons for the Nintendo Switch and PCs via Steam. The game is scheduled for release in the Americas in fall 2019.

The popular anime character - Doraemon - makes his way into the hugely popular Story of Seasons series in a brand new farming adventure. Players will be able to enjoy traditional Story of Seasons activities like growing crops, cultivating their farm, exploring, bug hunting, and much more.

Noby and other familiar faces from the Doraemon franchise will take part in a heart-warming journey across the title's original local town. Players will develop the town along with their own farm while interacting and forming bonds with other townspeople. Doraemon's secret gadgets will also be featured throughout Doraemon Story of Seasons.



Specifications


Platform: Nintendo Switch (digital-only), PC (digital-only)
Genre: Farming, Simulation
Release Date: Fall 2019
Publisher: Bandai Namco Entertainment
Developer: Marvelous, Brownies
Players: One
Rating: Pending
Localization: English
Subtitles: English, Neutral Spanish



About Doraemon Story of Seasons


Embark on a charming farming adventure with Doraemon and friends!

Doraemon, the endearing cat-type robot that captured the hearts of millions worldwide, arrives for another adventure in 'Doraemon Story of Seasons'! Dive into a new world that combines relaxing gameplay with a story of farming, friendship and helping others. Grab a shovel and join the fun – coming soon to the Nintendo Switch and Steam!



Key Features


• A Sice-of-Life Game Featuring Beloved Doraemon Chaacters – Take control of Noby, an average boy with a heart of gold, to help bring a destroyed farm back to life! Create bonds with the other townsfolk to witness heartfelt interactions while you explore and foster the land with Doraemon, Sue, Big G, and Sneech!

• Story of Seasons with a Twist! – Customize your farm by growing crops, raising farm animals, building furniture, and exploring everything that the town has to offer. Take advantage of Doraemon's secret gadgets to make building your farm a magical experience!