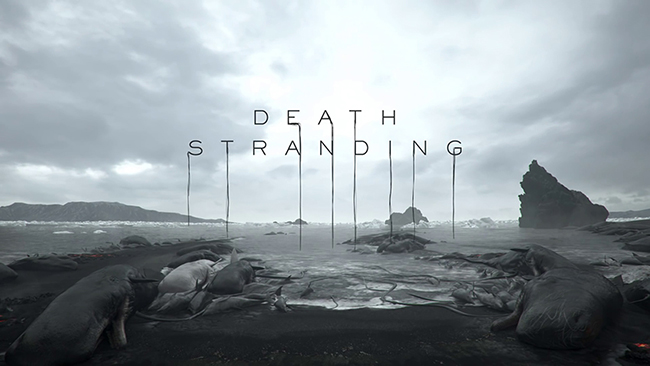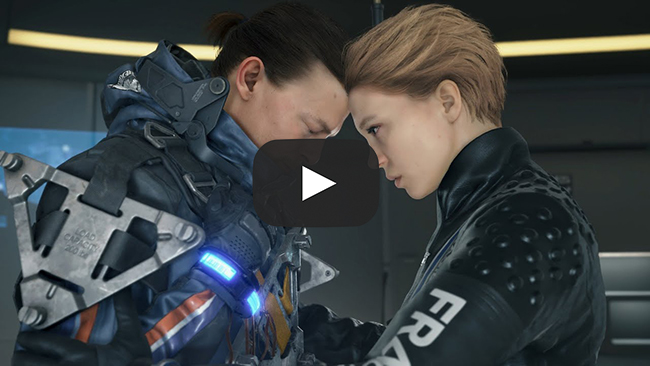 Japanese Trailer contains new footage including a boss fight


Death Stranding Available November 8 on PS4

It fills me with joy to announce that Death Stranding, the latest project from legendary game creator Hideo Kojima, will be available November 8 on PS4.

In Death Stranding, play as Sam Bridges and traverse a ravaged nation to reconnect a fractured society and save mankind from the brink of extinction.

A special message from Hideo Kojima:

People have created "Walls" and become accustomed to living in isolation.

"Death Stranding" is a completely new type of action game, where the goal of the player is to reconnect isolated cities and a fragmented society. It is created so that all elements, including the story and gameplay, are bound together by the theme of the "Strand" or connection. As Sam Porter Bridges, you will attempt to bridge the divides in society, and in doing create new bonds or "Strands" with other players around the globe. Through your experience playing the game, I hope you'll come to understand the true importance of forging connections with others.

Now, please enjoy the latest Death Stranding trailer.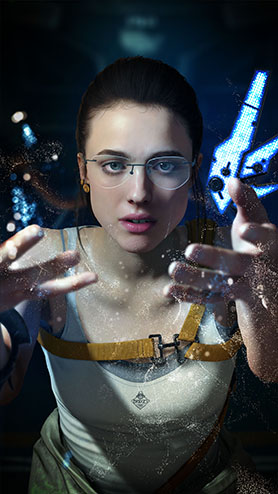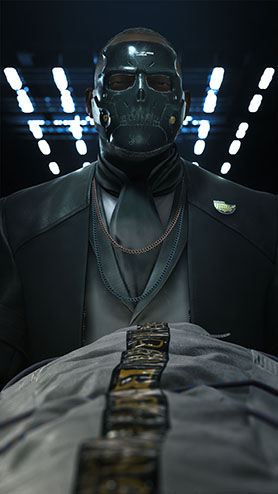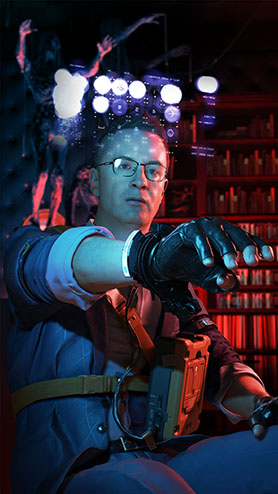 We're also revealing that pre-orders for Death Stranding begin today. You'll have the option to choose between the Standard Edition, Special Edition, Digital Deluxe Edition and Collector's Edition – all of which include the full game and bonus incentives for pre-ordering.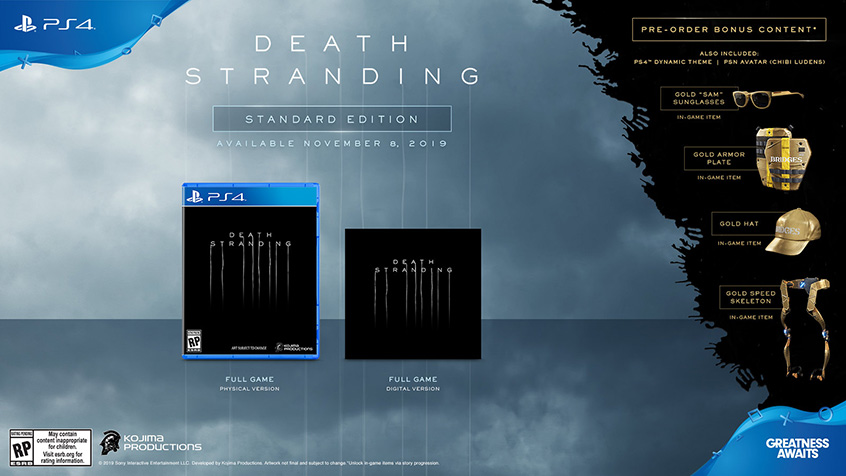 Pre-order the Standard Edition for $59.99 USD MSRP/ $79.99 CAD MSRP and immediately get a voucher to download a Chibi Ludens PSN Avatar – a stylized version of the iconic logo for Kojima Productions – plus, a Death Stranding PS4 Dynamic Theme at launch.

Pre-orders also receive special gold versions of in-game items earned through gameplay:

• Gold "Sam" Sunglasses
• Gold Hat
• Gold Speed Skeleton: Increase the speed of Sam's movement when equipped
• Gold Armor Plate: Increase protection against any damage Sam takes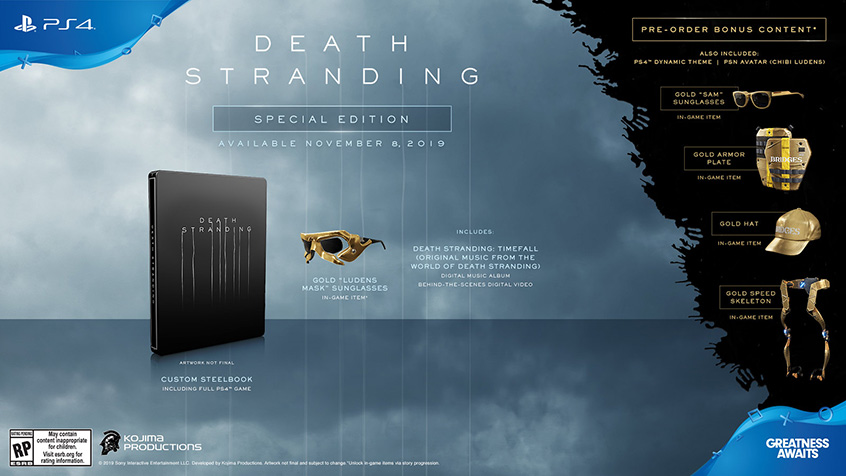 The Special Edition ($69.99 USD MSRP/ $89.99 CAD MSRP) includes a collectible Steelbook case. Pre-order and receive all incentives offered through the Standard Edition. The Special Edition also includes –

A special gold version of the Gold "Ludens Mask" Sunglasses earned through gameplay.

As well as these digital bonuses:

• Death Stranding: Timefall (Original Music from the World of Death Stranding)

- Music Album Digital Download
- Behind the Scenes Making Of Digital Video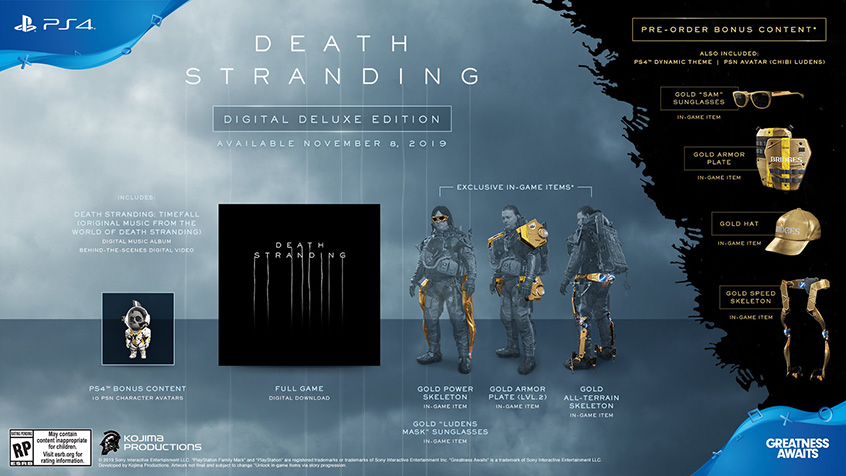 Pre-order the Digital Deluxe Edition for $79.99 USD / $99.99 CAD MSRP and receive all digital pre-order incentives offered via the Standard Edition. The Digital Deluxe also includes –

Special gold versions of in-game items earned through gameplay:

• Gold "Ludens Mask" Sunglasses

• Gold Power Skeleton: Enhance Sam's ability to handle heavy cargo

• Gold All-Terrain Skeleton: Enhance Sam's ability to balance himself on uneven terrain

• Gold Armor Plate (Level 2): Stronger protection for Sam against falls, gunfire, and more

As well as these digital bonuses:

- Death Stranding: Timefall (Original Music from the World of Death Stranding)
- Music Album Digital Download
- Behind the Scenes Making Of Digital Video



Also available for pre-order starting today is the Death Stranding Collector's Edition ($199.99 USD MSRP / $249.99 CAD MSRP), which includes all Digital Deluxe Edition in-game items and bonus contents, the Special Edition Steelbook, plus:

• Life-sized BB Pod Statue

• BRIDGES Cargo Case

• Ludens Keychain

And one more thing – Sony Interactive Entertainment and Sony Music Entertainment have partnered to create a full album of all-new, original music inspired by Death Stranding. Stay tuned to our official channels for details on Death Stranding: Timefall (Original Music from the World of Death Stranding).

I am excited for you to experience the cinematic adventure of Death Stranding. See you in November!

David Bull - Global Brand Manager, SIEA

blog.us.playstation.com
Gallery on Google Photos