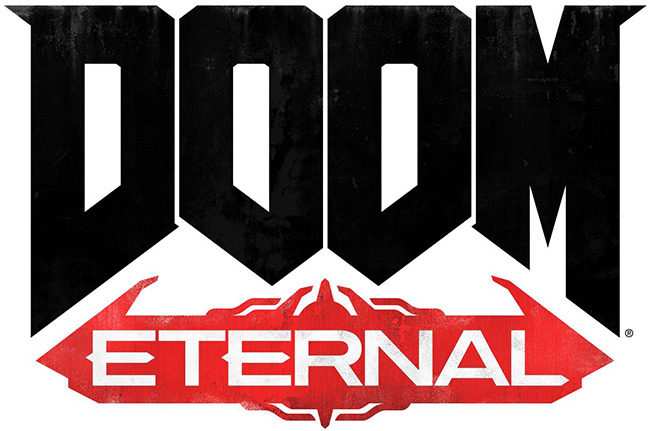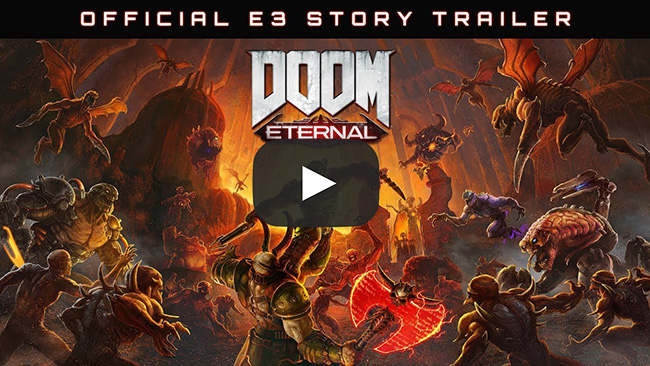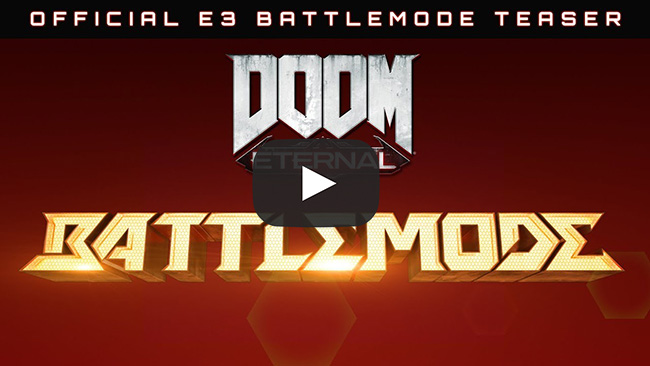 Put an end to Hell on Earth in DOOM Eternal's single-player Campaign

The forces of Hell have claimed Earth, overwhelming the planet with demons.

It's time for you to once again fill the skull-crushing boots of the DOOM Slayer and save humanity from utter destruction.
Of course, there's only one way to stop the chaos: rip and tear through every demon in your path, until it is done.



Raze Hell


In DOOM Eternal, fight through the relentless demon onslaught with unmatched speed, devastating weaponry and evolved aggression-first combat as the legendary DOOM Slayer. See the newest trailer for a taste of the adrenaline-fueled combat, engaging gameplay and expanding universe that awaits in DOOM Eternal's single-player Campaign.

The Slayer is deadlier this time around, but so are the enemies he faces. To annihilate the demon onslaught, players need to master a deadly combination of raw firepower, fast movement, aggressive resource management and old-fashioned instinct in DOOM Eternal's demanding encounters.



Seize. Victory.


The Slayer must rely on every aspect of his upgraded arsenal and abilities to combat the escalating strength of Hell's fully unleashed minions. Every resource matters and slaying at full strength means managing them aggressively. If you need something, charge into combat and take it from the demons.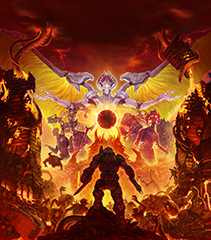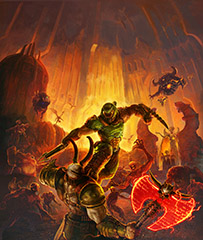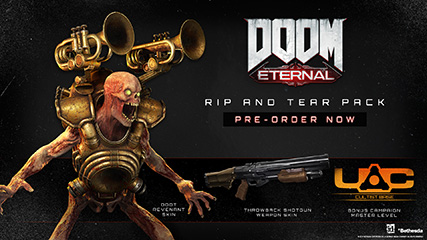 Use the new Flame Belch ability on the Slayer's shoulder-mounted Equipment Launcher to set demons ablaze and then shoot the immolated foes for armor. To restore health, use overwhelming firepower to stagger a demon and follow up with the ultimate rip-and-tear finisher, the Glory Kill. Ammo is scarce, so eviscerating enemies with the Chainsaw is essential for restocking the Slayer's munitions.

As the waves of demons you fight get tougher, you'll need to utilize the right weapons in your arsenal at the right times to maximize your damage. With DOOM Eternal's demon destruction system, tearing apart demons piece by piece is not only fun, it's useful, as targeting and destroying a heavy demon's primary guns can help make short, bloody work of even the toughest foes.

From the gap-closing Double Dash to the Meathook mod for the Super Shotgun, which allows you to hook into and get up-close-and-personal with a demon, DOOM Eternal puts you in control of the ultimate demon killing machine. But resourceful fighting is only one of the many additions to the Slayer's kit. On top of powerful new weapons like the energy-bladed Crucible and devastating Ballista, new options like scaling sheer walls, vaulting from monkey bars, punching through walls, breaking chains and much more allows you to master the environment as much as the combat.

Demons have taken over Earth, but you will show them what hell is really like this year when DOOM Eternal launches November 22.

Developed by id Software, DOOM Eternal is the direct sequel to DOOM, winner of The Game Awards' Best Action Game of 2016. Experience the ultimate combination of speed and power as you rip-and-tear your way across dimensions with the next leap in push-forward, first-person combat. Powered by idTech 7 and set to an all-new pulse-pounding soundtrack composed by Mick Gordon, DOOM Eternal puts you in control of the unstoppable DOOM Slayer as you blow apart new and classic demons with powerful weapons in unbelievable and never-before-seen worlds.

bethesda.net