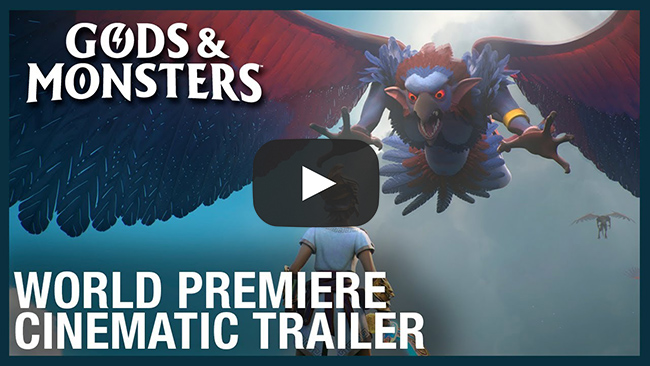 Gods & Monsters – Climb, Glide, And Fight Your Way Through A Vibrant Open World

Gods & Monsters sets players loose in a vibrant, colorful open world as Fenyx, a forgotten hero who receives a quest from Zeus: save the Greek gods from Typhon, one of mythology's most terrifying monsters. Fenyx is fast, agile, and strong, able to wield gifts from the gods to fight impossible aerial battles against the likes of harpies and gorgons. Fenyx is also whoever the player wants them to be. A fully customizable player-created character, Fenyx springs from the magical storytelling lyre of the legendary poet Homer, who narrates the story of Gods & Monsters as a campfire tale for his grandchildren.

Gods & Monsters is being created by the same team behind Assassin's Creed Odyssey, and while the two games share some similarities – they're both open-world adventures centered on an acrobatic Greek hero, for example – it's already clear that they're very different experiences. For starters, Fenyx can chop down trees, lift the fallen trunks into the air with telekinesis, and hurl them into the distance.

"It is lighthearted," says Creative Director Jonathan Dumont. "Homer is telling this story, but his grandkids are interrupting and asking questions along the way. Mythology has a good sense of humor, oftentimes, so there are certain instances where we like to poke fun at things. You can expect a different approach for how the story is told, but a similar tone to what we've done in the past."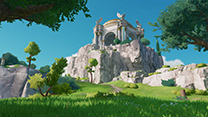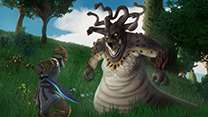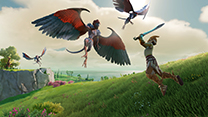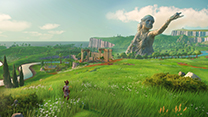 We've seen a brief sample of Gods & Monsters' gameplay – running smoothly on a Pixel phone through the Stadia app – and even on the small screen, Fenyx's adventure on the Isle of the Blessed looks impressive. From high atop a grassy cliff, it's possible to see vast stretches of the island, a sprawling expanse of hills, valleys, waterways, and ruins stretching out toward the sea. Fenyx moves quickly, running and jumping across the hilly landscape with a springy agility, and when they jump off a cliff, they can immediately summon and hang from a fiery phoenix, gliding safely down to an open plain below. And once on the ground, Fenyx can summon an equally fiery horse to race across the game's picturesque, painterly fields.

Speed and verticality also play big roles in Gods & Monsters' over-the-top combat, with Fenyx leaping straight at flying harpies and smacking them out of the sky with midair slash combos. Fenyx also has a range of special abilities that come in handy both in and out of fights, including a dash, a double jump, a whirlwind slash, a chameleon stealth ability, and a big ol' kick that can send enemies flying.

"When you're fighting and trigger your abilities, you're going to wreck the enemies you're facing, and free them from the corruption they're under," says Dumont. "You can expect a fast-paced type of combat that takes place on the ground and the air. For example, if you're fighting a cyclops, you may have to double jump to reach his head and hit him in the eye to blind him, so then you can fight him on the ground."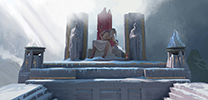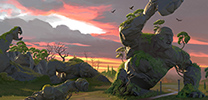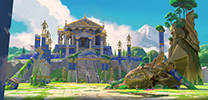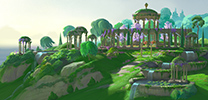 All of these abilities – along with jumping, attacking, climbing, and gliding – drain Fenyx's stamina gauge. So while Fenyx can scale just about anything, doing so can be dangerous; run out of stamina while free climbing, and you'll fall and possibly die. Your stamina meter can be upgraded, but in the meantime, exploration is sometimes a matter of weighing risk against reward. That said, there won't be a lot of complex systems for players to learn. Wide-open and filled with puzzles, dungeons, and epic quests, Gods & Monsters is meant to be fast, fun, and accessible to anyone.

"We send you into this open world and try to make sure that the journey is as interesting, challenging, and rewarding as the destination," says Dumont. "It's really about losing yourself into this world that offers a variety of gameplay through combat, puzzles, and traversal. I like that it is approachable and has a feeling of an uplifting adventure for everyone playing it. We're telling a cool story, teaching people about myths, and doing it in an uplifting way"

You'll be able to dive into the world of Gods & Monsters yourself on February 25, 2020, when it arrives on PS4, Xbox One, PC, Nintendo Switch, and Stadia.news.ubisoft.com