Garfield, the lasagne-loving cat, is back!

Today, Microids and Paws, Inc. are announcing the upcoming release of the game Garfield Kart Furious Racing! The game will be available on PlayStation 4, Xbox One, Nintendo Switch and Steam on 7 November in Europe and on 5 November in the United States.

Fans of racing, cats and lasagne: get ready! Garfield, the world-famous cat, is back to take on Jon, Odie and their friends in this racing game where anything goes! Each of the available characters and karts (which can be customised with dozens of accessories) has its own characteristics and a unique driving style: make a strategic choice to match your playing style so that you can cross the finish line in first place! Get off to the best start on the starting line and master tough skids to save time and win the race.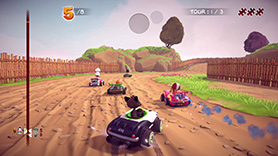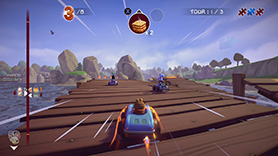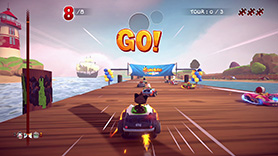 Crazy bonus items will be available too, including the pillow and the magic wand, to give you the edge over your competitors. Are you as lazy as Garfield? Take shortcuts and use the Spring to overtake everyone else!

The Garfield Kart Furious Racing game is perfect for playing with friends or family and features 16 iconic tracks from the world of Garfield, including Palerock Lake and the Pastacosi Factory. Compete in online races with up to 8 players and split-screen races with up to 4 players. Nintendo Switch players can take advantage of local, wireless connections to connect up to 8 consoles!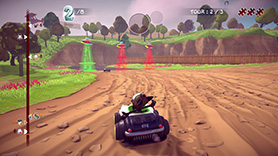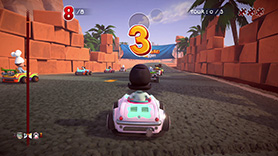 Three game modes will be available to please even the toughest of drivers: Grand Prix, Single Race and Time Trial.

Ready to cross the finish line?

Reunite with the series' 8 iconic characters (Garfield, Odie, Jon, Nermal, Arlene, Liz, Harry and Squeak) from 7 November 2019 in Europe and 5 November 2019 in the United States on PlayStation 4, Xbox One, Nintendo Switch and Steam!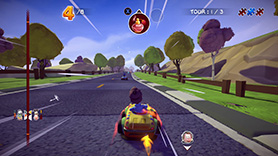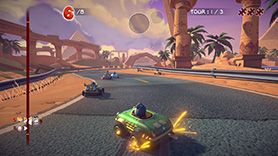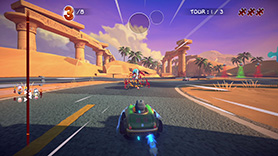 About Garfield Kart: Furious Racing


Garfield, the famous lasagna-loving Cat is back to take on Jon, Odie, and company in a no-holds-barred racing game! Choose your character and kart according to their characteristics and your driving style, get off the starting line first, and control skids to outrun your opponents. Use crazy bonus objects, like the pillow or the magic wand, to gain an edge and get over the finishing line first. Are you lazy like Garfield? Take shortcuts to overtake the other racers with the spring! Race your friends in local or online modes, with up to eight players on 16 iconic circuits from the world of Garfield.



Key Features


• Three Game Modes – Grand Prix, Single Race, and Time Trial.

• Multiplayer – Up to four players in split-screen mode and up to eight players in online mode, or portable on Nintendo Switch.

• 16 Circuits – Crazy races in stunning environments inspired by the world of Garfield, such as Palerock Lake and Pastacosi Factory.

• Eight Characters – Play as Garfield, Odie, Jon, Nermal, Arlene, Liz, Harry, and Squeak.

• Nine Attack and Defense Bonuses – Turn the race in your favor.