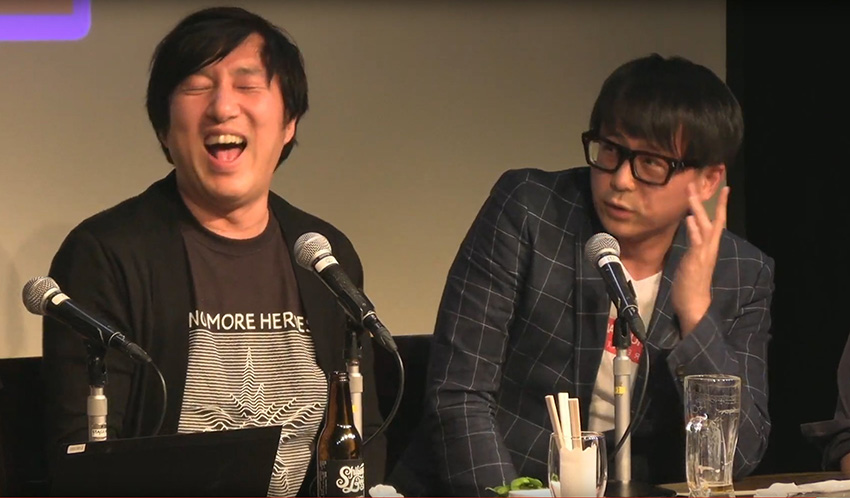 Hotel Barcelona Will be Suda 51 and Swery65's Collaborative Horror Game

it was revealed that Goichi "Suda 51" Suda and Hidetaka "Swery65" Suehiro would be working together on some sort of "secret project" that would be announced during Travis Monday Nightro. Now, the collaboration has been revealed. It will be a horror game called Hotel Barcelona. Also, it won't just involve Suda 51 and Swery65, as Siren creator Keiichiro Toyama will be involved in some way as well.

Hotel Barcelona is very early in development, with not even a logo yet. (Suda 51 will create one next week, with Swery65 brainstorming more ideas.) However, the duo has already talked to Devolver Digital about the project and been given about a 100 million yen budget. (This would translate to about one million dollars.) The game would be a horror title, with the Nintendo Switch, Google Stadia, and mobile devices mentioned as possible platforms they would like. Swery65 mentioned wanting it to be suspenseful, while Suda 51 said he mentioned more gory sorts of horror.

In Hotel Barcelona, which would be set in a hotel but maybe not in Barcelona, people would follow a journalist covering a new establish when things begin going wrong. Fans might be able to help inspire characters, who will be employees and other guests, and the journalist might end up turning out to be evil. Again, everything is still in a very tentative stage.

While talking about this project, the two talked about other projects. They decided to collaborate in 2018. One time, they even wanted to make a PlayStation VR game together. However, the project, which would have involved food in some way, didn't happen. However, after getting drunk, they decided to come together during this Travis Monday Nightro to start working more on it.

As for the Siren creator, during the presentation, Suda 51 said he liked the Siren series. After bringing that up, he texted Toyama about Hotel Barcelona. Toyama replied that he would be interested in working on the game with Suda 51 and Swery65, though his role and the extent of his involvement were not discussed.

Hotel Barcelona is currently in the very early development phase.

siliconera.com

Update: Apparently, Devolver Digital may not be set in stone as the publisher.


Gonna need @SUDA_51 and @Swery65 to pitch us this mysterious game we're supposedly publishing.

Name a time and place, gentlemen. https://t.co/duvQWVj1CO

— Devolver Digital (@devolverdigital) 23 de octubre de 2019