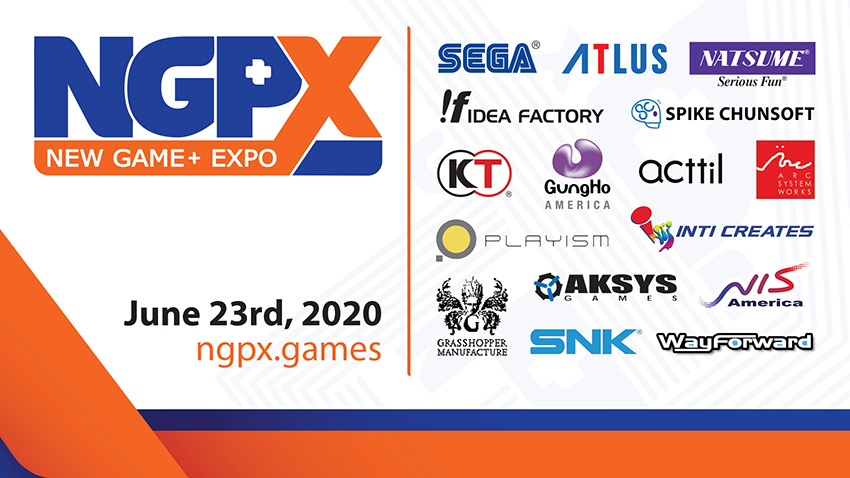 Upcoming Digital Showcase New Game+ Expo Announced for June 2020

New Game+ Expo (NGPX), a collaborative initiative of 14 video game publishers based in North America and Japan, will host a digital presentation featuring dozens of games that includes new title announcements and live gameplay demos.

The showcase will be featured live exclusively on Twitch on June 23, 2020 at 8 AM PDT (5 PM CEST). A live broadcast will run from 9 AM to 4 PM PDT (6 PM to 1 AM CEST) featuring first looks, Q&A, and more on the NGPX Twitch channel. The full showcase, along with trailers and highlights, will be available to view after the livestream on NGPX's YouTube channel.

"New Game+ Expo is a grassroots coalition of publishers and developers," said Adam Johnson, producer of NGPX. "Organizing together for the first time, we hope fans have fun as we take a look at the combined upcoming lineup of games for 2020 and beyond!"

The list of participating publishers are as follows:

• acttil
• Aksys Games
• Arc System Works America
• GungHo America
• Idea Factory International
• Inti Creates
• Koei Tecmo America
• Natsume
• NIS America
• Playism
• Sega of America
• SNK Corporation
• Spike Chunsoft
• WayForward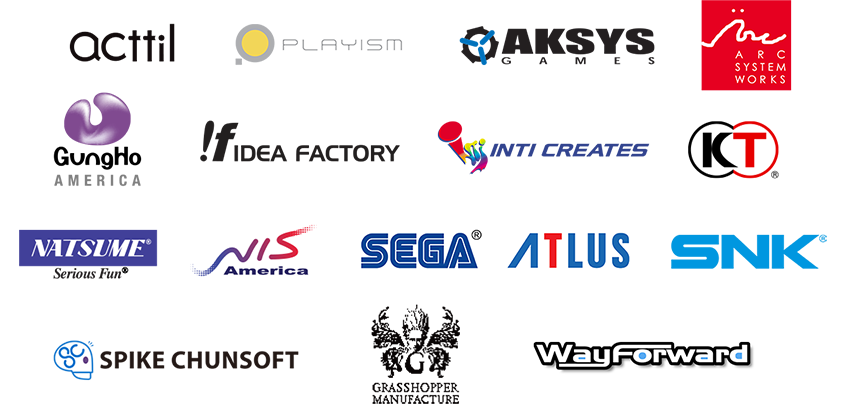 Ian Curran, COO and President of Sega of America

"COVID-19 has brought with it many challenges, but also an opportunity to come together as a bold collective of publishers. SEGA is delighted to announce its participation in New Game+ Expo, a new digital tentpole summer event of 14 publishers, joining forces to create a one-of-a-kind showcase event that unifies a special slice of the video game industry. Sega looks forward to joining with our friends at NIS America, Koei Tecmo America, Spike Chunsoft, Idea Factory International, Aksys Games, Natsume, Arc System Works America, GungHo America, SNK Corporation, Playism, Acttil, WayForward and Inti Creates to bring all our fans more excitement and entertainment as we move into a busy digital show season! We look forward to entertaining you on June 23. In the meantime, stay safe and GAME ON."

Goichi "Suda 51" Suda, CEO of Grasshopper Manufacture

"Congratulations to New Game+ Expo! As a gamer myself, I'm incredibly excited to see what will be on display. We must never doubt the power that video games bring to gamers offering us vitality and energy for tomorrow. Let's get charged up while staying at home!"

Mitsutoshi Sakurai, President and CEO of Spike Chunsoft

"Many of the events we've come to expect have been cancelled due to COVID-19. We're excited at the opportunity NGPX represents and are honored to take part. We invite people from around the world to join this online event from the safety of their homes. Along with our fellow publishers in the entertainment industry, we aim to broadcast a burst of positivity during these trying times. And more than anything, we hope for a quick return to normal life."

Sean Kim, Senior Director of Business Development at NIS America

"Our goal at NIS America has always been to interact with and entertain our fans, whether online or face to face. We hope everyone is staying healthy and safe, and we look forward to sharing all the exciting announcements with you!"

More highlights are to come via NGPX's social media channels, including the schedule of publishers for the post-showcase livestream.