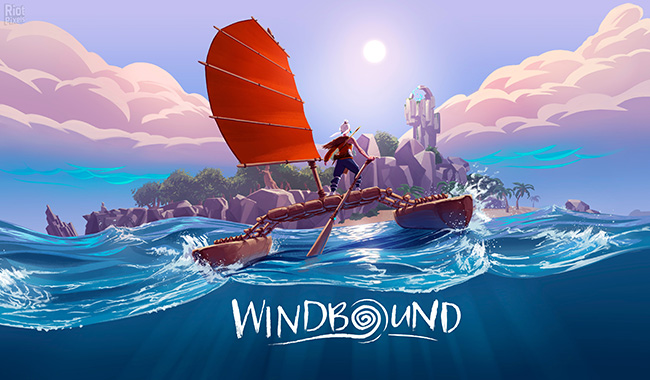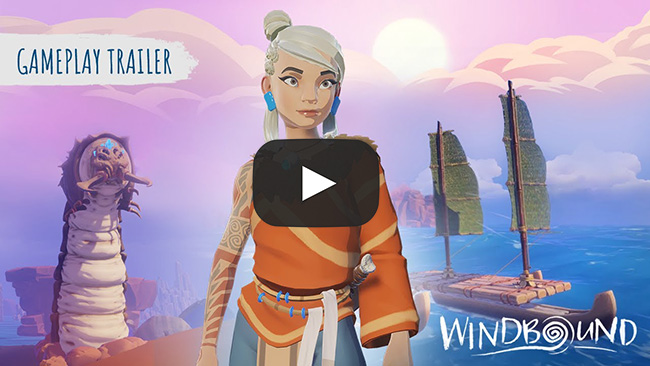 Windbound First Gameplay Trailer and Pre-order Bonus Revealed

Do you want the good news, or the great news?!

We are proud to showcase Kara in the first gameplay reveal trailer for Windbound. As a new day dawns on the Forbidden Islands. Kara, driven to find the path that leads her back to her tribe, pushes on in her extraordinary odyssey into the unknown.

The islands are alive with magic and enchantment telling the tales of their origin and revealing the role Kara unknowingly plays in it as each artifact that she unearths unlocks a new clue to her past.

Witness Kara's evolution in survival as she scavenges for resources and gains the skills to craft and equip her with the ultimate sea vessel and the strongest combat-ready attire and weaponry. Increasingly ferocious battles on land and now at sea will transform her into the hardened warrior she was born to become.

All the while, a storm unlike any she has ever seen, is pulling her through the treacherous waters to face a mystical presence that lies beneath the sea.

Since we announced the game in April our community has been rapidly growing and we are excited to share with our most dedicated followers the Ancestral bonus items you will receive when you pre-order the game.

To Kara's tribe, the exploits of her ancestors are legendary. Hunters, fishers, warriors, poets and philosophers, their stories tell of a people who lived in perfect harmony with the natural world and swam the deep waters in the company of gods. Though the tale of their downfall has been lost to time, their legacy lives on in the few artefacts that have endured to this day.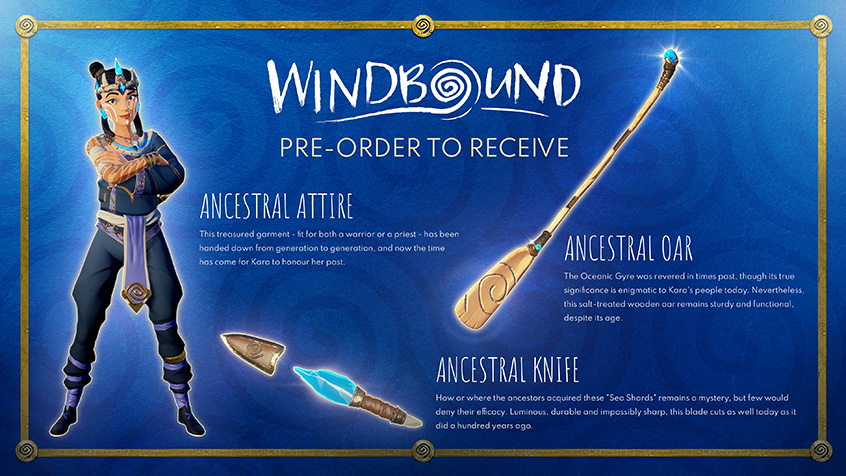 Pre-order Items

Ancestral Attire

This treasured garment - fit for both a warrior or a priest - has been handed down from generation to generation, and now the time has come for Kara to honour her past.

Ancestral Oar

The Oceanic Gyre was revered in times past, though its true significance is enigmatic to Kara's people today. Nevertheless, this salt-treated wooden oar remains sturdy and functional, despite its age.

Ancestral Knife

How or where the ancestors acquired these "Sea Shards" remains a mystery, but few would deny their efficacy. Luminous, durable and impossibly sharp, this blade cuts as well today as it did a hundred years ago.

windboundgame.com