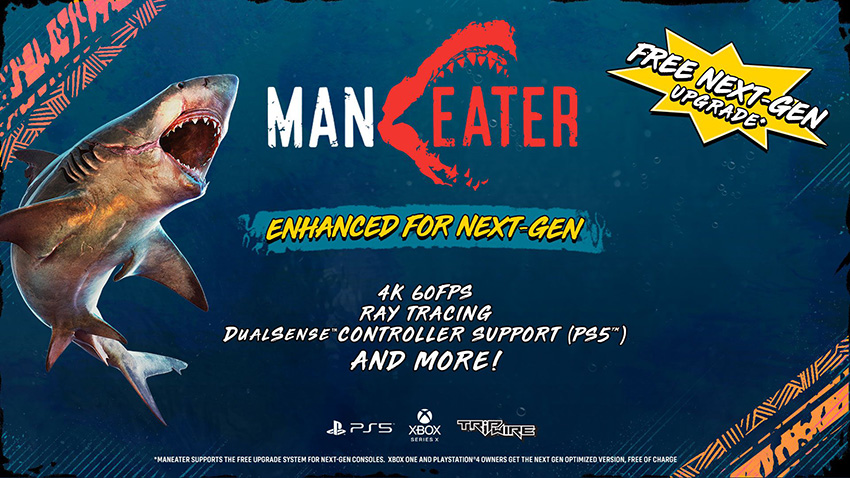 Maneater Evolves with Ray-Tracing, 4K 60 FPS and More Enhancements for Xbox Series X and PlayStation 5 Consoles

Fresh off of the wake of a spectacular launch on current-gen consoles and PC via the Epic Games Store, developer and publisher Tripwire Interactive and retail partner and publisher Deep Silver, Inc, are thrilled to announce that Maneater has sold over one million units worldwide. To celebrate this significant milestone and the growing pool of players who have successfully navigated the harsh waters of this open-water, action-RPG (aka ShARkPG), Tripwire Interactive and Deep Silver are excited to share first details on what players can expect from Maneater on Xbox Series X and PlayStation 5 systems. Fully evolved for the next generation of console systems, Maneater will support Ray-Tracing, native 4K HDR at 60 FPS, and new lighting effects that will bring the underwater world of Maneater to life like only the next generation consoles can. Xbox Series S owners will also benefit from increased graphical fidelity and frame rate. The PC version of Maneater will also be getting next-gen updates in early 2021 and more information on those enhancements will be coming in the next few months.

Players who currently own Maneater on Xbox One or the PlayStation 4 computer entertainment system can also look forward to a free, full upgrade, so when their console evolves, Maneater will too!

Next-Gen upgrades for Maneater will be available at launch for the Xbox Series X and Xbox Series S on November 10, 2020 – and for the PlayStation 5 computer entertainment system on November 12, 2020 (North America, Australia, and New Zeland) and November 19, 2020 (Europe).

Out now on the PlayStation 4 computer entertainment system, Xbox One, and PC (via the Epic Games Store), Maneater invites players to experience the ultimate power fantasy by controlling the apex predator of the seas – a terrifying shark!

Maneater is a single player, open-world action-RPG (ShARkPG) where YOU are the shark. Starting as a small bull shark pup you are tasked with surviving the harsh world while eating your way up the ecosystem. To do this, you will explore a large and varied open world encountering diverse enemies - both human and wildlife. Find the right resources and you can grow and evolve far beyond what nature intended, allowing the player to tailor the shark to their play style. This is fortunate, because to get revenge on the cruel fisherman that dismembered you will take evolving into a massive shark, an apex predator of legends. Eat. Explore. Evolve.

"The Tripwire team has been overwhelmed by the great reception Maneater received since it launched earlier this year, and we can't wait for players to experience the thrill of playing as a deadly shark in all of her powerful glory on next-gen consoles," said John Gibson, CEO of Tripwire Interactive. "With next-gen Maneater has never looked better with amazing ray traced water and smooth 4k 60FPS gameplay, but the adventures won't stop there, as fans can expect even more exciting news about the future of Maneater soon."