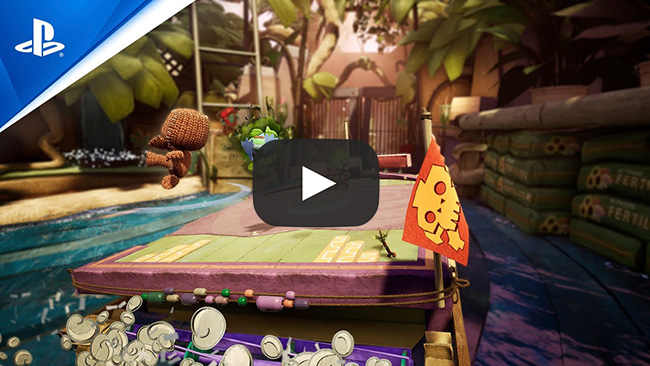 Sackboy: A Big Adventure speedrun guide - The Knitted Knight Trials

It's launch day! It's incredibly exciting to see Sackboy: A Big Adventure released and players to finally be able to experience the little fuzzy fella's biggest adventure yet! There is so much to enjoy in this game, it's absolutely jam-packed! As well as the main story levels where you will face off against the dastardly Vex, we also have loads of side-content and challenges that will really put your platforming skills to the test. Before we give you some tips and tricks to set you on your way with Sackboy and his friends, we wanted to remind you that the full online multiplayer functionality within Sackboy: A Big Adventure will be coming via a patch, a few weeks after launch*. This will also include cross-gen support so none of your friends need to miss out on the fun whether they are on PS5 or PS4! Until then, from today you'll still be able to enjoy Sackboy with your household in offline couch co-op party play*. 2-4 player parties can play through the whole game including unmissable co-op only levels.

For those folk who take up the offer of a free upgrade from the PS4 version to the PS5 version, we will also be adding in the ability to transfer your save too!

I wanted to take this opportunity to share a few tips and tricks to help you tackle some of the toughest challenges that you'll encounter on your journey through Craftworld: The Knitted Knight Trials.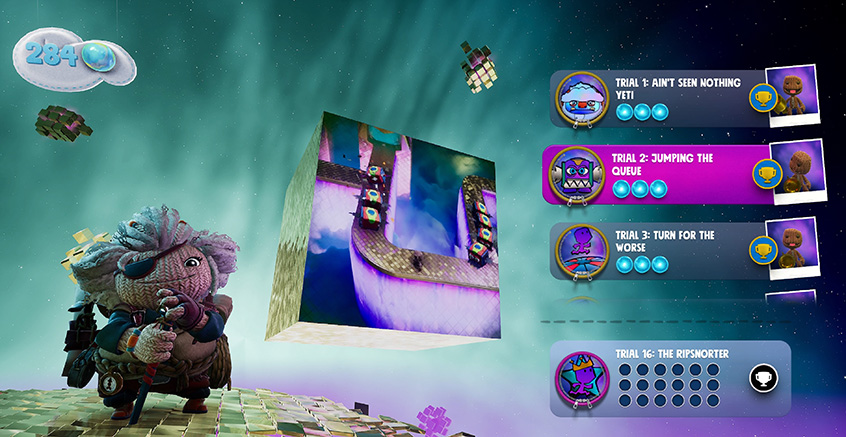 The Knitted Knight Trials

Sackboy: A Big Adventure sees our favourite diminutive woollen hero embark on an epic journey to thwart the dastardly Vex and his evil plan to turn Craftworld into his own nightmarish theme park.

Sackboy is aided on his quest by Scarlet, the last surviving Knitted Knight. The ancient order of the Knitted Knights are the sworn protectors of Craftworld. In her role as Sackboy's mentor, Scarlet sets him a series of trials to test his courage and skill so that he can prove himself worthy of becoming a Knitted Knight.

The Knitted Knight Trials are some of the most challenging levels in the game. These quick-fire, arcade-y speed runs give you a single life to complete a hazard strewn obstacle course in the shortest time possible.

There are initially 15 trials to discover and master and if you earn at least a bronze trophy in each of them then you will unlock the game's ultimate challenge: The Ripsnorter! In this final trial you have a single life with which to negotiate a 10-minute, nerve-shredding, assault course.

An ultra-rare costume reward awaits any player skilful enough to conquer The Ripsnorter.

So, without further ado, here are my top tips for negotiating the trials, conquering the Ripsnorter and proving your worth as a Knitted Knight.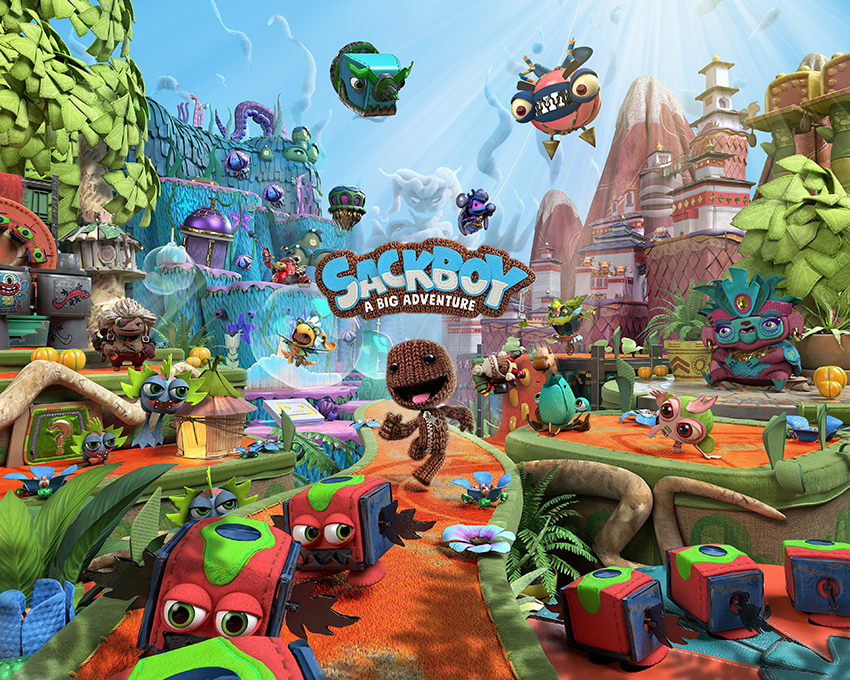 Tip 1: Flutter to defy gravity

Flutter is a new move in Sackboy's repertoire where he briefly thumbs his nose at gravity and extends his hangtime. You can flutter by pressing and holding jump while airborne. Fluttering is great for extending your jump distance and avoiding moving hazards.

Tip 2: Rolling is faster than running

The wee man had learned to roll! And you can roll indefinitely by repeatedly mashing… well… the Roll button. The crucial thing for any aspiring speed runner roller to know is that Sackboy rolls faster than he runs, so you will want to use this move extensively if you're going to achieve the top times. (You can also roll into a jump to slightly increase your jump distance. But shhh it's a secret.)

Tip 3: Dodge to evade hazards

Another new ability in Sackboy's expanded move set is Dodge. Dodging lets Sackboy quickly evade incoming attacks and hazards. To dodge, push the left-stick away from danger and tap the Roll button.

Tip 4: Time bonus collectables aren't always worth it

The trials feature time bonus pick-ups which, when collected, will knock a few valuable seconds off the clock. Be warned however, some of these pickups are off the beaten path and if you want to achieve the very best times then taking a detour is not always worth… erm… your time.

Tip 5: Chain moves together to extend your hangtime

This is possibly the most important tip of all. Sackboy can flutter, dive, slap and spin while airborne to extend his jumps. And you can chain some or even all of these moves together to cover much bigger distances.

Tip 6: Cutting corners is encouraged!

Each course features shortcuts that can expedite your route to the finish line. Look out for anywhere you might be able to skip a section. See a jump you think you might just be able to make? Go for it! Roll to build up speed, take a leap of faith, flutter and add more moves to your combo to leap great distances and find the optimal route to the finish.

Tip 7: The clock doesn't start until you cross the line

The timer only starts ticking when you set off. So choose your moment wisely.

Well there you have it. That's my seven tips for tackling the Knitted Knight Trials. Remember to attack each course, maintain your momentum and if you slip up don't get discouraged, practice makes perfect.

Finally, if you do make it all the way to the Ripsnorter... Good luck!

*Coming by late 2020/early 2021 via patch (internet connection required).

Ned Waterhouse - Design Director, Sumo Digital

PlayStation Blog