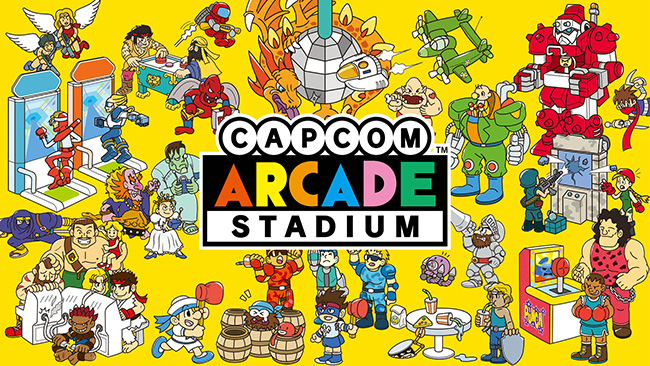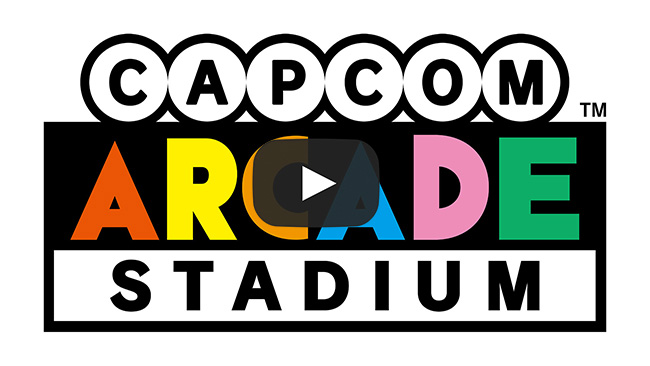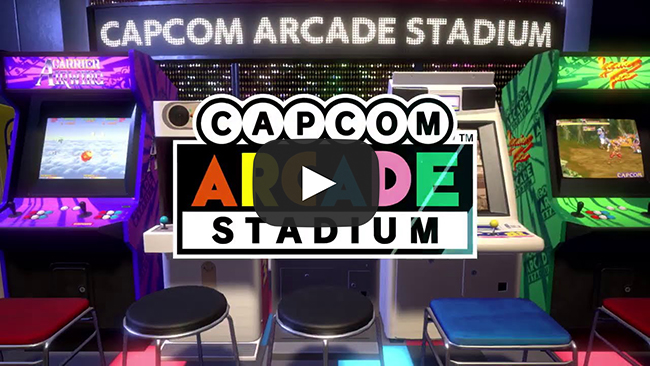 About Capcom Arcade Stadium


For old-school fans and novices alike, Capcom Arcade Stadium will bring the electrifying thrill of an arcade to Nintendo Switch, with 32 action-packed classics available to play anytime and anywhere. After downloading Capcom Arcade Stadium, players will receive 1943: The Battle of Midaway for free and can purchase the original Ghosts 'n Goblins as a stand-alone add-on. Retro fans can then choose to purchase up to three different 10-game packs of Capcom arcade classics spanning the decades. Each pack celebrates a different era of Capcom arcade goodness, from '80s classics like Bionic Commando or Strider, to iconic '90s games like Super Street Fighter II Turbo and more. Fans can also choose to purchase the "all-in" pack, which contains all three 10-game packs in addition to the Ghosts 'n Goblins stand-alone add-on for maximum nostalgia.

This must-have collection provides an abundance of customization options for each title, and new gameplay options including a Rewind feature that is available across all games. Players can jump back in time to save themselves or a friend from any unforeseen dangers in up to four-player local multiplayer.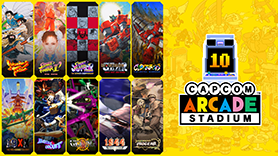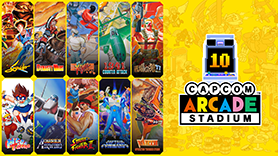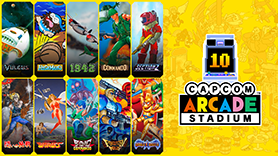 Key Features


• Arcade at Home – Take 32 classic Capcom titles out of the arcade and into your home! Includes a free version of 1943: The Battle of Midway, three different packs of Capcom's finest, and the stand-alone Ghosts 'n Goblins add-on.

- Pack 1: Dawn of the Arcade (1984 to 1988): Vulgus, Pirate Ship Higemaru, 1942, Tatakai no Banka, Legendary Wings, Bionic Commando, Forgotten Worlds, and Ghouls 'n Ghosts.

- Pack 2: Arcade Revolution (1989 to 1992): Strider, Dynasty Wars, Final Fight, 1941: Counter Attack, Senjo no Okami II, Mega Twins, Carrier Air Wing, Street Fighter II: The World Warrior, Captain Commando, and Varth: Operation Thunderstorm.

- Pack 3: Arcade Evolution (1992 to 2001): Warriors of Fate, Street Fighter II': Hyper Fighting, Super Street Fighter II Turbo, Powered Gera: Strategic Variant Armor Equipment, Cyberbots: Fullmetal Madness, 19XX: The War Against Destiny, Battle Circuit, Giga Wing, 1944: The Loop Master, and Progea.

• Variety of Gameplay Options – Turn back the clock on any "Game Over" situations using the universal Rewind feature, or take advantage of the adjustable gameplay options by selecting your Game Speed and Difficulty Level. Choose from a variety of Display Settings, Display Filters, and various frames including a variety of 3D-rendered arcade cabinets. Never worry about losing progress with 32 available save slots.

• High Scores and More – Players will build their CASPO Class by playing games, earning achievements and completing challenges in Capcom Arcade Stadium. As players build their CASPO Class, they unlock in-game backgrounds and frames, including 2D and 3D rendered arcade cabinet designs. Compete in "Timed Challenge" and "Score Challenge" game modes to claim your place on the online leaderboards.

• Play Your Way – Enjoy multiple ways to play, including handheld mode, docked mode, tabletop mode, and a vertical mode.