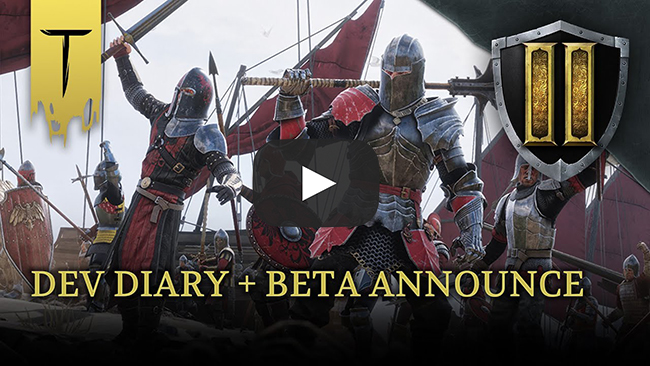 Chivalry 2 Global Launch Set for June 8, Pre-order for Closed Beta Access on PC

Developer Torn Banner Studios, publisher Tripwire Presents, and retail co-publishing partner Deep Silver are excited to officially announce that Chivalry 2 will launch on June 8, 2021 with Cross-Play support for PC (via Epic Games Store), the PlayStation 4 and PlayStation 5 computer entertainment systems, the Xbox One family of devices, and the Xbox Series X/S console systems. PC players ready to enter the ultimate medieval battlefield early are encouraged to pre-order Chivalry 2 today for guaranteed access to the Chivalry 2 Cross-Play Closed Beta event beginning March 26.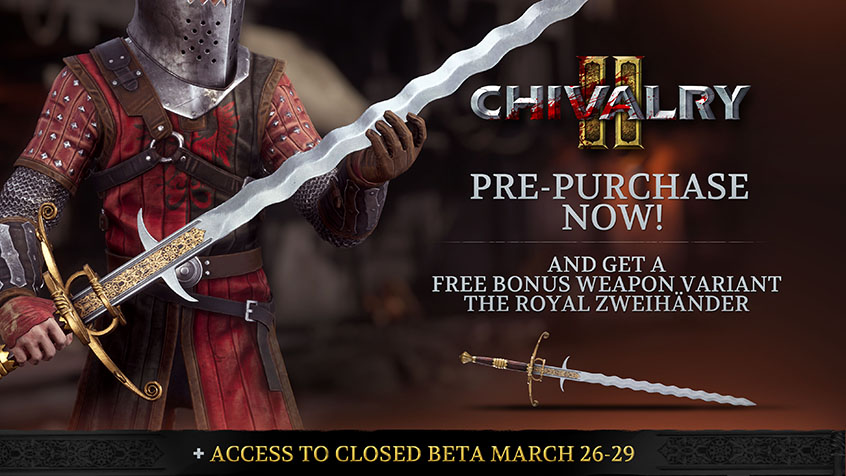 Digital pre-orders are live today for PC for both the standard edition of Chivalry 2 (MSRP $39.99, €39.99, £34.99) and the Chivalry 2: Special Edition (MRSP $49.99, €49.99, £44.99). More news on the availability of console pre-orders will be announced soon.

Chivalry 2 will offer pre-order incentives across the standard and special editions. The standard edition pre-order of Chivalry 2, available for both digital and retail, will grant players the Royal Zweihänder weapon skin.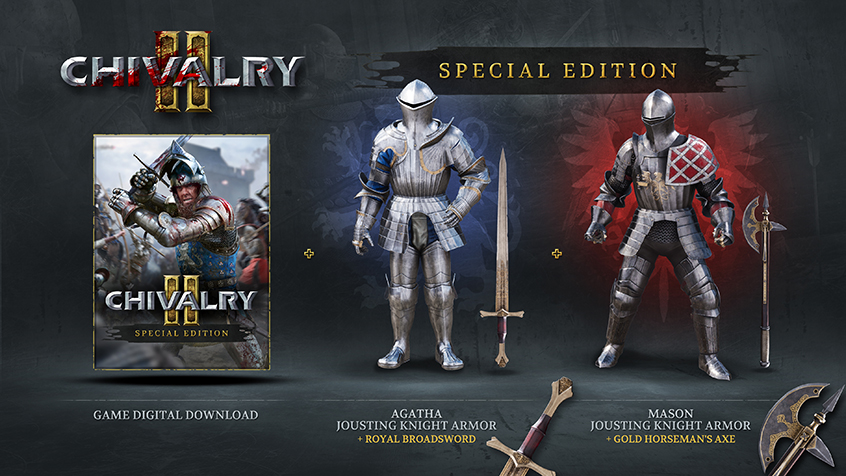 The Special Edition, offered for digital pre-order only, comes with a bevy of additional exclusive items including the full Chivalry 2 game, the Agatha Jousting Knight Armor and Royal Broadsword, the Mason Jousting Knight Armor, the Gold Horseman's Axe, the Roses novelty item, and more. All digital pre-orders of either standard or special editions edition will guarantee access to the upcoming closed beta. Please visit the official website for additional pre-order information.

Scheduled to begin on March 26 and running through March 29 for PC (via Epic Games Store) PlayStation 4, PlayStation 5, Xbox One, and Xbox Series X/S Console Systems, the Chivalry 2 Cross-Play Closed Beta event will offer fans the chance to experience the ultimate medieval battlefield ahead of its global multiplatform June 8 launch.