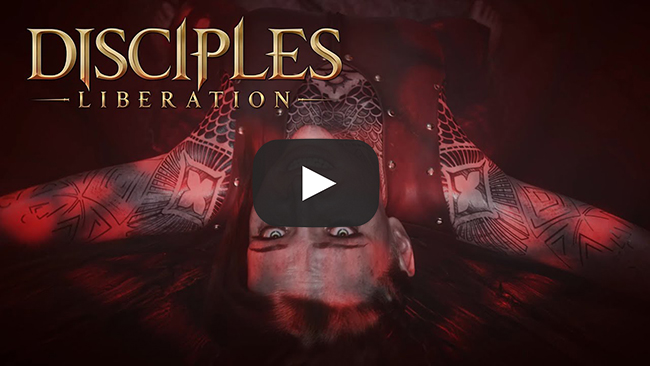 Disciples: Liberation​ Announced for Q4 2021 With Eye-Popping Announcement Trailer

Kalypso Media and Frima Studio have today announced Disciples: Liberation – a brand-new mature, dark fantasy strategy RPG arriving in Q4 2021 for PC, PlayStation 4, Xbox One and next-gen consoles including PlayStation 5 and Xbox Series X|S. An announcement trailer can be viewed above, though it's not for the squeamish.

Disciples: Liberation marks a new beginning for the franchise, allowing players to explore a richly detailed dark fantasy world, fight foul beasts in intricate turn-based combat, take on hundreds of unique quests and foster relationships with an assortment of in-world factions: from a human empire tinged by religious extremism to the dark forces of the undead lead by a mad queen. Alliances forged, players can build an army and trade hard-earned resources for an assortment of upgrades to their home base. No choice is without consequence and depending on decisions and political alignments, one wrong move could see a deadly domino effect, irrevocably changing the course of their story.

A closed PC alpha for Disciples: Liberation will be available soon, allowing 200 players to go hands-on with the game.

Key Features


• 80-Plus Hour Single-Player Campaign – Experience a sprawling dark fantasy epic over three acts, with more than 270 quests and five unique endings to unlock.

• Explore a War-Torn Realm – Journey through a sprawling world in ruin and work to unearth its endless secrets, hidden treasures, and bloody past.

• Write Your Own Story – Pick from four uniquely skilled classes and define your place in the world, recruiting others to your cause from an assortment of factions.

• Build a Base – Take on quests for precious resources and use your political savvy to build a place of planning and sanctuary.

• Fight for Your Life – Recruit 50-plus units and amass an army best suited to your play style; hone both steel and spell in intricate-turned based combat.

• Challenge Deadly Bosses – Test your mettle and pit your party against horrific monsters and beasts, each requiring a unique strategy.

• Choice is Everything – Let your decisions guide your fate and directly influence what sort of leader you become.

• Fight Your Friends – Put forth the ultimate challenge and battle for supremacy in 2-player online skirmishes.