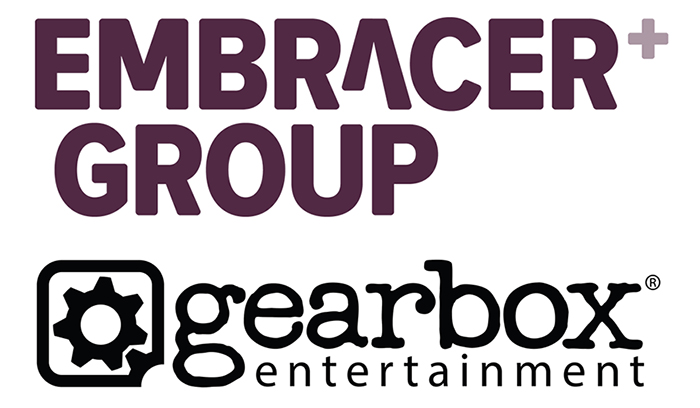 Embracer Group merges with The Gearbox Entertainment Company and form a seventh operating group

Embracer Group ("Embracer"), has today entered into a merger agreement with US based The Gearbox Entertainment Company ("Gearbox"). Gearbox, based in Frisco, TX and founded in 1999, has been self-funded by the employees from inception. Post-closing, Gearbox will become a seventh operating group as a wholly own subsidiary of Embracer. Gearbox Founder and CEO Randy Pitchford will continue to lead Gearbox, and Randy Pitchford and the employees of Gearbox will jointly become a significant shareholder in Embracer. Gearbox brings highly creative AAA development studios, North American publishing capabilities and a robust IP portfolio, including critically acclaimed and iconic franchises like Borderlands, Brothers in Arms and Homeworld.

The day one purchase price amounts to USD 363 million in total, on a cash and debt free basis, of which USD 175 million is paid in newly issued Embracer B shares (the "Closing Consideration Shares") and the residual in cash. Subject to fulfilment of agreed financial and operational targets in the next six years, an additional consideration of maximum USD 1,015 million may be paid, of which a maximum of USD 360 million in issued Embracer B shares (the "Additional Consideration Shares") and the residual in cash. To earn the maximum consideration, USD 1,378 million the accumulated Adjusted EBITDA, including expensed development costs, must exceed USD 1,300 million over six years.

"Gearbox is arguably one of the most creative and valuable independent developers in the world. We believe that the resources offered by Embracer will position Gearbox for continued significant growth in the years to come" says Lars Wingefors, Founder and Group CEO of Embracer Group.

"Lars's vision of Embracer as an allied partner group committed to fueling and accelerating the ambitions of a series of decentralized, successful entrepreneurial member companies while magnifying the collective value and advantages of diversification across the entire group is the most brilliant strategy and design for short, medium, and long-term success in this industry that I have worked in during 30 years. The feeling at Gearbox is that we are just getting started and this transaction is not merely a stimulant for the talent of our employee-owned company, but a propellent for the exciting future we have planned." said Randy Pitchford, founder of The Gearbox Entertainment Company.

Through the merger, Embracer onboards one of the leading independent companies within the games industry, with proven experience of creating long-lasting franchises and delivering strong original content. The merger will enable collaboration within Embracer in terms of development, publishing, technology, IPs as well as a platform for further M&A in North America. Gearbox will become the seventh operating group and continue to operate as an independent studio focusing on premium interactive gaming experiences.