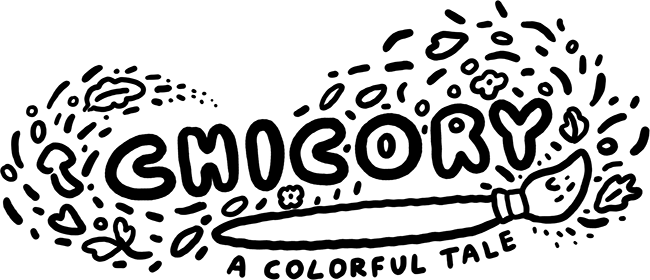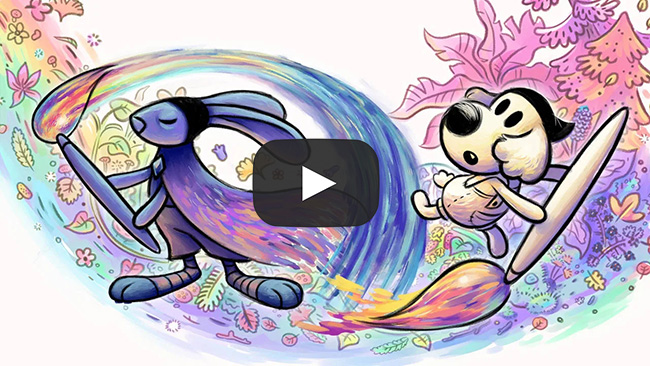 The world is your canvas in Chicory: A Colorful Tale, coming to PS5 and PS4 this spring

Hi everybody! I'm Greg Lobanov, director of Chicory: A Colorful Tale. I'd like to give you a peek behind the scenes at what inspired us while developing this game and what you can expect when Chicory: A Colorful Tale launches on PS4 and PS5 later this year.

When all of the world's color vanishes in Chicory: A Colorful Tale, it will come down to you to restore it with a magical paintbrush.

I'm a game designer and I really love making things; it's my perfect zen place to be. And a part of that process includes meeting and talking with other creative people and learning about their processes and feelings. I wanted to encourage our players to engage their creativity and play this game in a more personal way. There might not be one right answer for anything, but that's what makes this world so fun to explore.

This game's unique painting mechanic was the starting point for the entire project. We wanted to center the player's individual creativity at all times, and that decision had far reaching effects on every aspect of the story, world and puzzle design.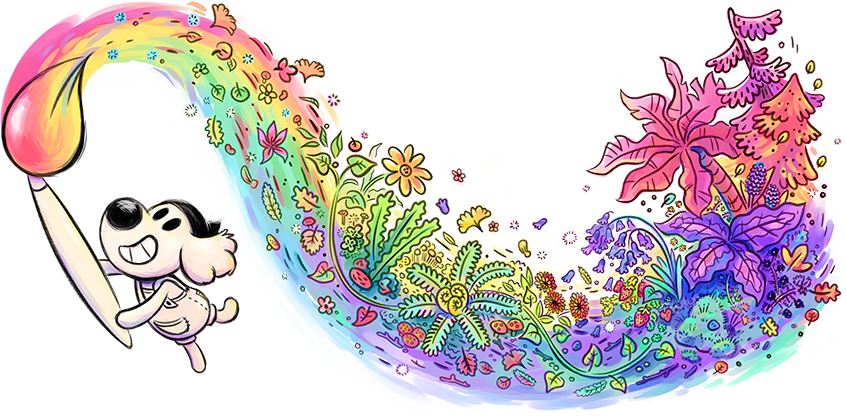 The game is generous with giving the player options for personalizing their world. Besides being able to draw on everything all the time, you can also collect decor items and plants which you can place anywhere. All your art and decorating decisions are persistent throughout the adventure, which makes it extra rewarding to come back to an old place along your journey. Most side quests involve you creating something which leaves a permanent mark on the world, too, and often those things will attract the attention of other characters and cause them to gather somewhere new. And by the way, there are a lot of side quests (Chicory is an adventure game after all)! You can get to know some of the 100+ characters in the game as you deliver their mail. Or you can spend some time in art class recreating masterpieces.

We've taken full advantage of the new DualSense wireless controller to bring a sense of depth to Chicory's gameplay in a way we've never experienced before. You can paint using the touchpad, and the controls are specially arranged to make it easier to do that. There is also an option to flip the controls so left-handed players can draw with their dominant hand if they prefer. Not to mention we've added lots of soft texture rumbles which makes the whole thing feel warm and cozy, like petting a cat.

Playtesting this game has revealed really interesting diversity in the way players engage with it. Some players come for the adventure, and love discovering new places and solving tough puzzles. Other players soak into the cozy, laid-back world and take their time painting things without worrying too much about what their next task is. Making a game for all kinds of folks was important to us, but also a tricky thing to balance, which is why we wanted to include as many options as possible for players to create their ideal experience.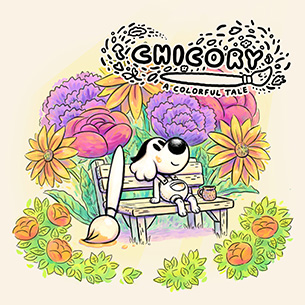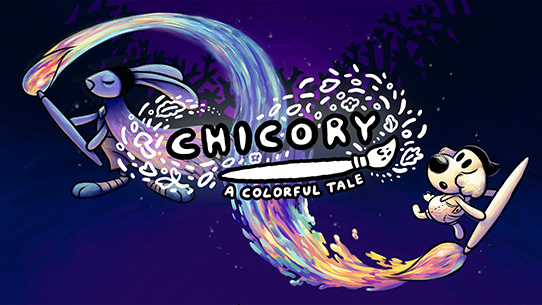 Players can visit a phonebooth at any time and call their in-game parents to get a reminder on what they were doing, or if needed, precise directions to the next goal. But these in-game hints were limited in function; they are only available from some locations and so are generic by necessity. With PS5's Game Help system, we got to fill in all the gaps, making sure no screen in the game is without some guidance for a player who's stuck and just needs that little hint – and both systems work together great! Between the in-game hints and the Game Help additions, this game contains a thorough 100% walkthrough of itself.

We also included options for players to make action sequences slower and easier, or even to skip them entirely. There are optional content warnings for some of the scarier sequences. And I also want to mention that despite our painting-based gameplay, nothing in the game relies on your ability to distinguish colors for puzzle-solving, so colorblind players can have just as much fun exploring as anyone else.

If the consequence of this design work is that anybody and everybody feels comfortable getting lost in the creative coloring in Chicory, well, that's pretty much the most lovely outcome!

Chicory: A Colorful Tale is being published by Finji (Night in the Woods, Overland, Wilmot's Warehouse) and will be coming to PS5 and PS4 in Spring 2021. You will be able to play the game in English, Spanish, French, Italian, German, Brazilian Portuguese, and Russian on launch day.

Greg Lobanov - Director, Finji

PlayStation Blog