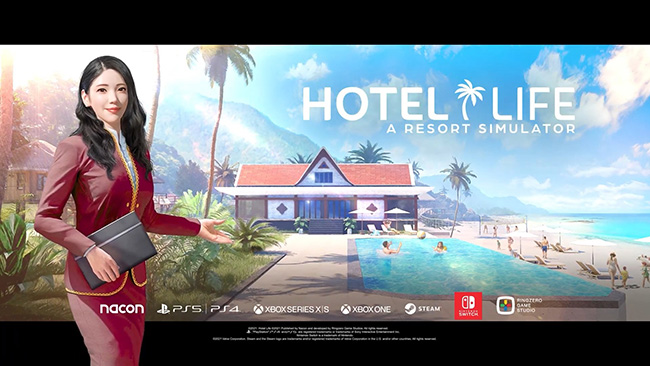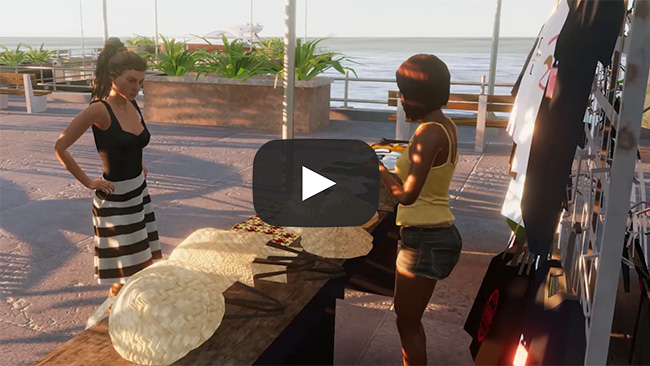 Hotel Life: A Resort Simulator Reveal Trailer

Nacon and RingZero Game Studio are giving you the opportunity to explore the life of a hotel manager in Hotel Life: A Resort Simulator, which will be available from 26 August 2021 on PlayStation 5, PlayStation 4, Xbox Series X|S, Xbox One, Nintendo Switch and PC.

Set in an idyllic location, Hotel Life: A Resort Simulator is the most enchanting game from Nacon's new Life label. But don't let the delightful setting distract you from your goal: building and running the best hotel, and, of course, ensuring customer satisfaction.

As hotel manager, you will have to make the right decisions: locating your buildings in the best places, tastefully furnishing and decorating the rooms, providing an attractive programme of activities... Then, budget permitting, you'll be able to upgrade your resort by installing additional bungalows, a swimming pool, and maybe a spa. It's up to you to make the right decisions to make sure your resort is as attractive as possible.

Is your growing resort getting too big for you to handle on your own? Hire a receptionist, bartender, and masseur, then manage your team to ensure they are as effective as possible.

In Hotel Life, you're more than just a manager. You also need to roll up your sleeves to clean the rooms, prepare meals and pick up new arrivals from the airport. Finishing these tasks involves meticulous and precise gameplay.

Your guests' holiday is your job. And as each guest is unique with unique requirements, it's up to you to provide a range of activities at your complex to keep them satisfied and get the best possible Internet reviews.

Finally, Hotel Life has a Career Mode that gives players scripted missions and events. In this mode you complete objectives that become increasingly difficult as you progress, to the point where even the most experienced hotel managers would struggle to achieve them. And if you just want to admire your hotel and the idyllic environment, Waiting Mode is for you. In this mode, you enjoy a day off.

Take a peek behind the scenes of your dream holiday and make sure your guests enjoy an unforgettable stay in Hotel Life: A Resort Simulator.