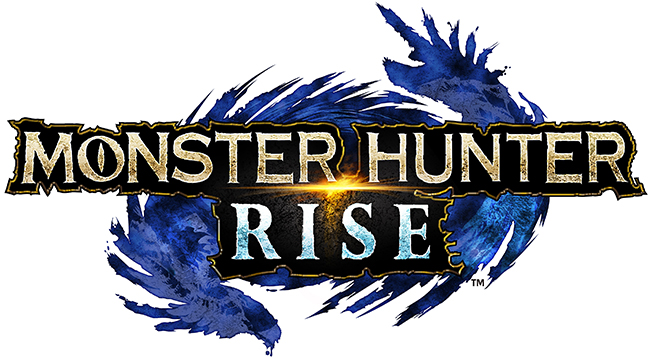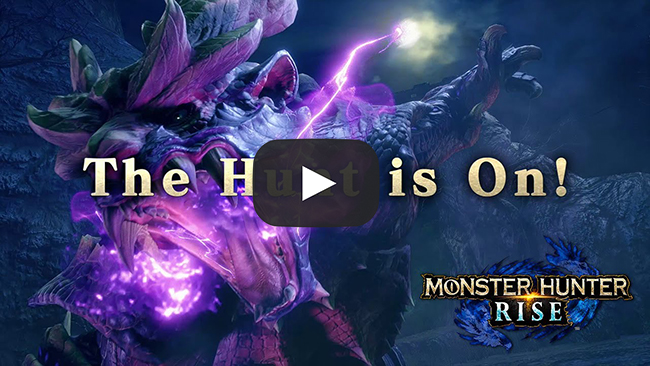 Monster Hunter Rise - The Hunt is On!

The award winning and top-selling Monster Hunter series hits a new high with the global release of Monster Hunter Rise on Nintendo Switch today. In addition to being available now on Nintendo Switch, Monster Hunter Rise will also be arriving on PC in early 2022. Following the blockbuster success of Monster Hunter: World and its massive Iceborne expansion, the latest installment in the action RPG franchise transports players to the colorful Kamura Village, as they prepare to defend themselves against a rapidly approaching calamity called the Rampage. Hunters can tackle these challenges solo, or with up to three other players in local or cooperative online play, while also taking advantage of the versatility of the Nintendo Switch system, which allows for hunting anytime, anywhere and with anyone!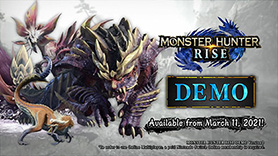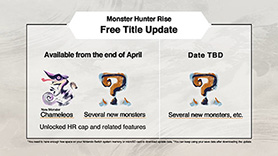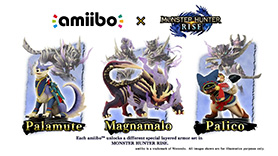 To overcome the looming Rampage, the hunters of Kamura must make use of the new Palamute hunting companions and "Wirebug" grappling mechanic as they engage in the series' trademark action-packed combat. The "Canyne" Palamute companions join the series favorite "Felyne" Palicoes in assisting players while out on a hunt. In addition to lending their considerable offensive capabilities to any fight, Palamutes can also carry hunters on their back to swiftly chase any fleeing monsters and traverse the open maps. Wirebugs, on the other hand, allow hunters to nimbly grapple in any direction during a hunt, and can be paired with each of the 14 weapon types to create unique "Silkbind Attacks." Damaging monsters with these new attacks will make them susceptible to the new "Wyvern riding" technique, which allows players to temporarily take control of a monster and yields spectacular battle sequences during a hunt.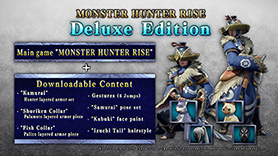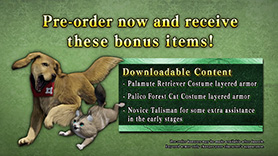 When players aren't exploring the five expansive locales, such as the Shrine Ruins, Flooded Forest, and Sandy Plains, they can also battle hordes of massive monsters in the new Rampage quest type introduced in Monster Hunter Rise. In these quests, hunters must work with the citizens of Kamura Village to prepare their defensive installations and guard the Stronghold barricades against waves of invading monsters, including any Apex monsters that may arrive during the siege. In addition to the new game mode, Monster Hunter Rise also introduces new "Switch Skills" for each weapon as hunters progress through the game. By swapping out these new skills with existing Silkbind or regular attacks, players can create all new combos and strategies that match their preferred playstyle.

Monster Hunter Rise will also include new features to improve joining up for hunts with others. Dynamic difficulty scaling for multiplayer automatically adjusts as new players enter and exit a hub quest. The new "Hunter Connect" feature will allow players to create tags with their objectives and playstyle, search for other players with the same tags or invite friends to any tags they have joined. Upon completing a quest in multiplayer, players will also be able to like the other hunters in their party, and increase the likelihood of finding each other in matchmaking.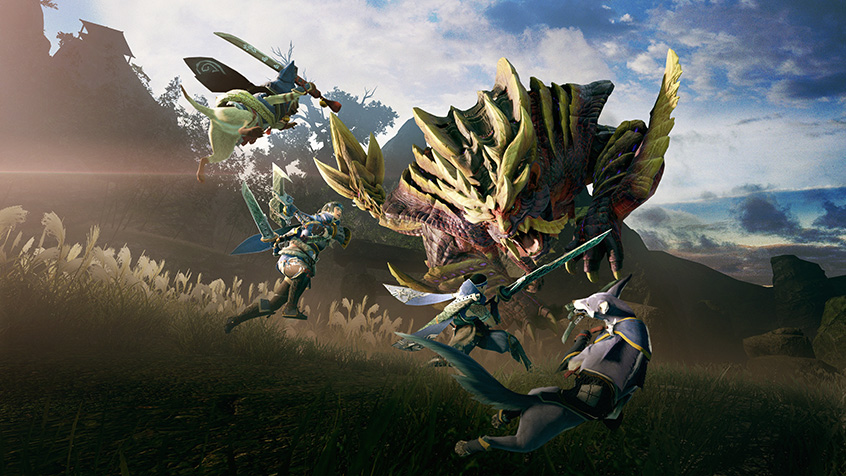 As with previous series iterations, Monster Hunter Rise will include robust free post-launch support. The first free title update has already been announced for late April, and will feature a number of new monsters including the returning fan-favorite Chameleos, a whimsical Elder Dragon that likes to cause mischief before disappearing without a trace. The launch trailer also confirmed Apex Rathalos will be arriving as part of Title Update 1. More information on this and other title updates will be revealed in the coming months.

In addition to the Standard Edition (physical and digital) of Monster Hunter Rise , a special digital Deluxe Edition will include the Standard Edition of the game, as well as a digital DLC pack voucher that can be redeemed for bonus in-game content such as a "Kamurai" full layered armor set, exclusive gestures, cosmetic items and more.